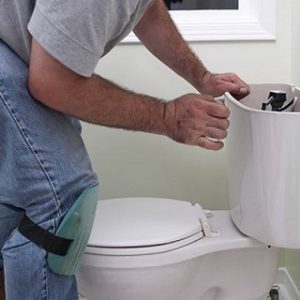 Has the toilet in your home seen better days? Are you sick of putting this replacement project off and are you finally ready to replace your old, worn down toilet? Maybe you have a relatively new toilet that just needs to be repaired. Regardless of the situation, our team at Dan's Plumbing & Septic is here to handle all of your toilet replacement and repair needs. We're here to serve residential and commercial property owners in the St. Paul, MN area.
On average, toilets should be replaced every 15 years or so. Some people make the assumption that toilet replacement is an easy project that doesn't require much experience. What often happens is that our plumbing experts at Dan's Plumbing & Septic will get a call from a property owner after they have started the toilet replacement process.
Toilet Replacement and Repair St Paul
Frequently, they realize that they may not be able to complete the project successfully on their own. The good news is that our experts are happy to pick up right where you left off. Our team has been around for decades and we've truly mastered how to effectively replace any type of toilet. Also, we can help you pick out the right toilet, size and brand that will work best for your property.
Common Toilet Repairs
Toilets are definitely reliable appliances, however there will be times when they need to be repaired. Your toilet can be damaged for a variety of reasons. As a property owner, you're not expected to know all of the signs to look for when a toilet is not working properly. Over the years, our toilet repair specialists have commonly worked on the following toilet repairs:
● Faulty Flappers
● Poor Wax Seal
● Continuously Running Toilet
● Bad Fill Valve
● Overflowing Toilet
● Rocking Toilet
● Loose or Damaged Toilet Seat
● Bubbling Toilet
● Many More!
It should come as no surprise that every property has to have working toilets. If your toilet has been having issues or if you believe it is finally time for you to replace your existing toilet, there's no better team to handle your plumbing needs than Dan's Plumbing & Septic. Serving the St. Paul, MN community, now is the time for you to let our professionals handle your toilet replacement and repair needs. To schedule a toilet replacement or repair appointment with our experienced crew, give us a call today at (763) 434-6814.