Garbage Disposal Installation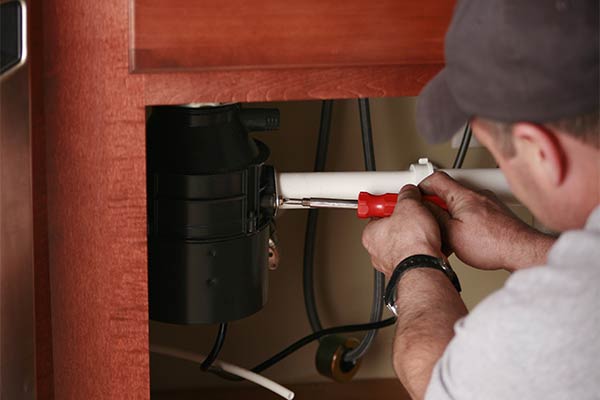 A garbage disposal makes life in your kitchen much easier. It shreds the food waste you and your family collect into very small pieces so that it can be washed through your pipes without causing a clog. It is generally mounted underneath your kitchen sink and is electrically powered. A garbage disposal is an excellent way to deal with kitchen waste, reducing the amount of trash your family produces by approximately 20%.  It is important to always use water when you put any food waste in the disposal, so that the disposal can function properly. Dan's Plumbing & Septic can repair or replace your garbage disposal so that you can continue to use it to make your life easier. We work with homeowners and business owners in the Seven County Metro area of Minnesota.
Benefits of Using a Garbage Disposal
Saves you time in the kitchen – cleaning and disposing of uneaten food is quick and easy.
Reduce waste – A garbage disposal allows you to accumulate less trash which ultimately helps our environment. Up to 20% less food ends up in your local landfill when you use a garbage disposal.
Reduce odors – Reduce kitchen odors from uneaten food put in the trash. Your indoor and outdoor trash will attract less bugs and other unwanted critters.
Help your plumbing work properly – Helps keep your kitchen plumbing working well and free of clogs. Very often without a garbage disposal, food scraps slip down the train and get into your pipes, which can require a plumber to repair it completely.
Inexpensive to run – Garbage disposals are an inexpensive kitchen appliance that costs very little to run each year.
Low maintenance – Maintenance of a garbage disposal is simple, easy and inexpensive. Cleaning requires just flushing a little baking soda and vinegar down the drain every so often.
Garbage Disposal Repair and Replacement
If your home's kitchen does not currently have a garbage disposal, the professional plumbers at Dan's Plumbing & Septic can install one quickly so that you can begin enjoying the many benefits. If you have a disposal that is no longer working, our crew can assess the problem and determine whether repair is possible. We will be honest and open with you about your options for repair versus replacement so that you can make the decision that is best for you. Garbage disposal repair and replacement is very affordable and should be completed by a professional plumber to appropriately protect your home's plumbing system.
Why Choose Dan's Plumbing & Septic?
Plumbing Experts – Our plumbing team is fully licensed and insured and has a Minnesota State Plumbing Contractor License, a City of Saint Paul Plumbing Contractor License as well as a City of Minneapolis Plumbing Contractor License. We serve the Seven County Metro area of Minnesota. We are committed to providing you with the best possible customer service, honest communication, prompt service, and we always take time to fully explain the issue so that you completely understand and can ask any questions you may have.
Locally Owned Small Business – We are a locally owned Minnesota business that has been operational for more than 50 years. We offer full plumbing services including repair, new construction, remodel, and small commercial construction.
Free Estimates and Competitive Pricing – We offer free estimates and competitive pricing for all plumbing jobs. You will never have to worry about hidden fees when you work with us. Currently, we accept both checks and credit cards as forms of payment.
Experienced Plumber in the Seven County Metro Area of Minnesota
If you are considering adding a garbage disposal to your kitchen or need a repair to your existing one, call the team at Dan's Plumbing & Septic at 763-434-6814 for an appointment.