Whirlpool Tub Installation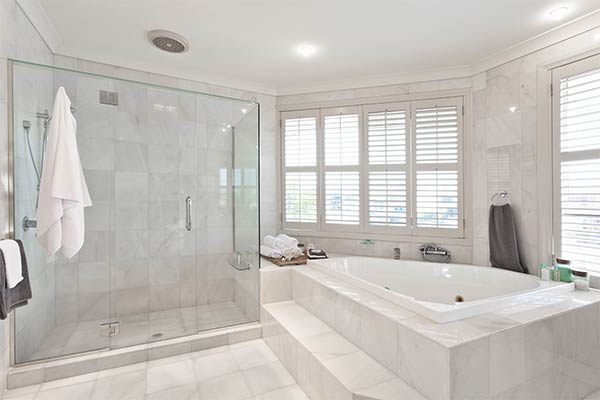 If you are looking for an upgrade for your home that adds value and a lot of fun and relaxation, consider a whirlpool tub. A whirlpool bathtub has water jets that project water in a swirling, circular motion. There are many benefits of a whirlpool tub including increased relaxation, improving your blood circulation, and relieving stiff and achy joints and muscles. The warm water (heated to about one hundred degrees Fahrenheit) can even reduce inflammation and provide protection for important organs like your heart. Another very important benefit is that a whirlpool tub can help you relax just before bed and actually help you get a good night's sleep. Dan's Plumbing & Septic can install a whirlpool tub in your home and help transform your bathroom into your own home spa!
Professional Whirlpool Installation Services
A whirlpool tub has many health benefits and is also an added amenity for your home in the event that you decide to sell it down the road. Hiring the team at Dan's Plumbing & Septic for whirlpool tub installation will ensure that the whirlpool tub is installed correctly, so that you do not have to worry about any potential water damage. Fitting the jetted tub to your bathroom is one important part of the process that can help prevent a costly bathroom remodel. Our team can help with this process.
Whirlpools can be found in all types of homes from small starter homes to large homes. Adding a whirlpool to your home may seem at first like an extravagant purchase, but in reality, they may not cost as much as you may think. Dan's Plumbing & Septic can sit down with you and discuss your budget for your bathroom, and we can share our recommendations for a whirlpool that will work for your unique space and your budget. We can take a look at your bathroom space and give you ideas as to how it will work best and whether you need any additional plumbing work completed as a part of the process. If you are building a new home, we can discuss the best layout for your bathroom and then coordinate the installation before you move in.
Cost of a Whirlpool Tub
If you decide to move forward with a whirlpool tub installation, the professionals at Dan's Plumbing & Septic will give you an estimate for the cost of the job. We will be open and honest about all potential costs, so that there are no surprises as the project moves forward. We always communicate clearly and honestly about costs and the timeline it will take to complete the work. We view our customers as true partners in this process. We want you to be happy with the end result AND the process that gets you there. It is this part of our business model that has helped us become a trusted plumber in the Seven County Metro area of Minnesota. We value this trust and work to exceed all expectations.
Experienced Plumber for Whirlpool Tub Installation
Dan's Plumbing & Septic is fully licensed, bonded and insured and has received a Minnesota State Plumbing Contractor License, as well as a City of Saint Paul Plumbing Contractor License and a City of Minneapolis Plumbing Contractor License. We have been in business for more than forty years, serving customers in the Seven County Metro area of Minnesota. If you are considering a whirlpool tub for your bathroom, call the team at Dan's Plumbing & Septic at 763-434-6814 for a free estimate. We will respond quickly and can get started on a new project in just a matter of days. We can help you make your dream for your bathroom a reality!