Toilet Installation & Repair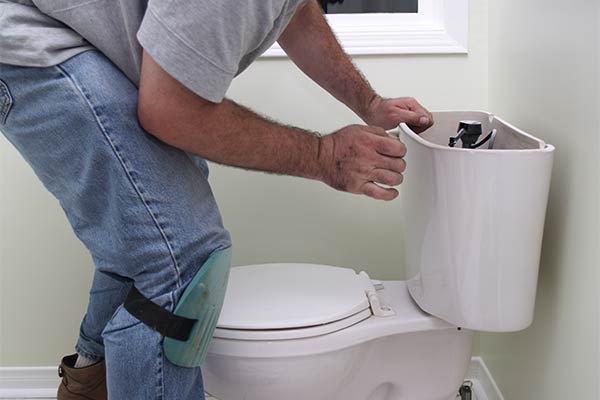 Toilet installation and repair can be complicated and extremely messy. Many of these repairs are best left in the hands of a professional plumber. The team at Dan's Plumbing & Septic can assess any issues related to your toilet and determine the best way to solve your problem quickly so that you avoid issues with water damage and/or septic issues. We complete residential and commercial plumbing and septic work for homeowners and business owners in the Seven County Metro area of Minnesota.
10 Common Toilet Problems
Toilet running constantly
Your toilet has a weak flush or does not completely flush
Your toilet rocks and is not securely connected to your bathroom flooring
You hear gurgling noises in your sink or shower after you flush your toilet or smell sewage.
Water levels in your toilet rising or falling
Loose or cracked toilet seat or tank
Your toilet takes a long time to refill after each flush
Clogging problems that are not fixed by a household plunger
Malfunctioning parts of your toilet (valves, bolts, etc.)
Your toilet is leaking
No matter what type of toilet problem you have, our crew at Dan's Plumbing & Septic can complete the necessary repairs for you. Toilet repair can be very messy, and our crew will leave your bathroom clean, smelling good and ready for use. We can complete simple repairs to the parts of your existing toilet, replacing small parts if they cannot be repaired.
Professional Toilet Installation
Toilets need to be replaced periodically when they no longer function property. The average life expectancy of a toilet is anywhere from 8-15 years. The crew at Dan's Plumbing & Septic will be honest with you about our assessment of your toilet and clear about our recommendation for repair versus a replacement. We are available to answer your questions and provide a clear timeline and estimate for all toilet repairs and replacements. We can also remove your old toilet as part of our work. Toilet replacement is not terribly expensive and is advisable if the parts needed to repair it exceed the cost of a new toilet or if a professional plumber believes you are at risk for water damage as a result of the faulty toilet.
Prevention of Major Septic System Issues
If you suspect that you have a septic issue brewing, our crew can assess that as well. If you have a septic issue on your property, you may notice a sewage smell inside your home or business, or around the outside of your property. You may also hear gurgling noises from your sinks, toilets and shower drains indicating that there is a clog or back up in your septic system. This can be caused by a buildup of paper products or a problem with your sewer line on your property. Septic system issues handled quickly and by a professional, experienced plumber can help to minimize the damage in and around your home. We can diagnose and repair all types of septic problems. If you are looking for ways to prevent these problems, use less paper waste and be aware of sewage smells and unfamiliar sounds. If you notice any issues, the sooner you contact us, the better your chances of avoiding a major issue.
Professional and Experienced Minnesota Plumbing & Septic Company
Dan's Plumbing & Septic is a locally-owned company serving the Seven County Metro area of Minnesota. We are the oldest septic cleaning company in the area and have built our reputation for strong customer service and a commitment to honest communication and competitive pricing. We are licensed, certified, bonded and insured and are committed to helping you resolve your plumbing or septic issue carefully and professionally. For more information about our toilet installation and repair services, contact us at 763-434-6814.