Sump Pump Repair & Replacement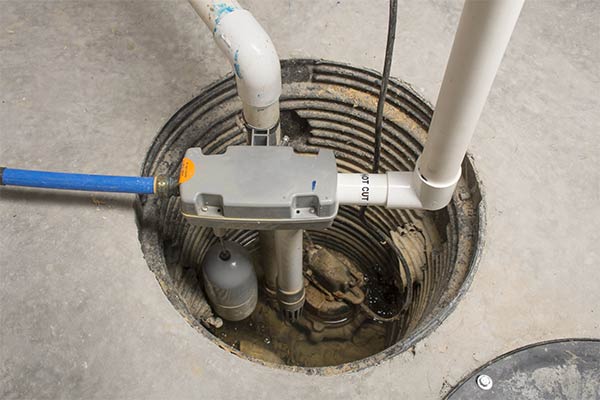 If your home has a basement, you likely are familiar with a sump pump. A sump pump is installed in a basement that is susceptible to flooding as a way to resolve issues with water and/or dampness. If the water table is above the foundation of a home, your home is vulnerable to water damage. A sump pump can protect your basement from water damage and protect your foundation as well. Dan's Plumbing & Septic completes sump pump repair and replacement for homeowners and business owners in the Seven County Metro area of Minnesota.
Common Signs Your Sump Pump may need to be Repaired
You can expect that your sump pump will last approximately 10 years. Maintaining your sump pump during that time is an important part of keeping your basement safe and dry. Below are some common signs that your sump pump may need to be repaired or replaced by a professional plumber:
Your sump pit is dry: If you can hear your sump pump running but you do not see any water in the pit, then it is very likely not running properly and should be looked at. It may be clogged or no longer hooked up correctly.
Excessive noise: If your sump pump is making unusual noises, there may be a problem with the motor. Very often the motor can be replaced without replacing the entire pump.
Advanced age: The life expectancy of your sump pump is only ten years, and it very rarely lasts longer. So, if your pump is approaching that age, it is likely time to replace it rather than putting money into repairs.
Pump running constantly: Like a toilet that continuously runs, this can be a sign of a problem that should be evaluated by a plumber. When it runs too much, your sump pump's motor can get worn out more quickly.
Clogged pump: If your sump pump gets clogged, then it will stop working efficiently and will create problems for your basement. Clogs can form because of dirt, debris, or as a result of jammed switches in your sump pump.
Professional Sump Pump Repair and Replacement in MN
Dan's Plumbing & Septic can repair all of the common problems with your sump pump. Our crew can complete a thorough assessment and determine whether a repair is possible or if it is better for you to consider a replacement. We will communicate honestly and clearly with you about our recommendation, the potential cost for repair or replacement and the timeline for our services. We take great care to make sure that our customers understand the process we follow so that you can ask any questions you have of us. We find that this helps build trust with our customers, which is a very important part of our business model.
Dan's Plumbing & Septic has been serving the Seven County Metro area of Minnesota for more than four decades and we have built a reputation for offering high quality services at affordable prices. We understand how important an investment your home or business is. So, we are always honest about our assessment and the cost of repair. We will explain your options and never push a replacement on you, if a repair is all that is needed. We never charge hidden fees so there will be no surprises when you work with our team.
Reputable Plumbing Services in the Seven County Metro Area
Dan's Plumbing & Septic understands how important it is to protect your basement from water damage. Your sump pump is critical to keeping your basement dry. If you are concerned about whether your sump pump is functioning correctly or you simply want a plumber to complete a routine maintenance check, call our team at 763-434-6814.