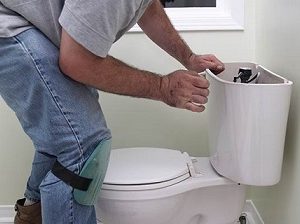 Owning a home can be both rewarding and extremely stressful. The modern home is an extremely complex thing, made up of many interdependent systems. These systems require maintenance, some of which can be done by the homeowner, and others require the attention of a professional. Some aspects of plumbing are simple enough that a homeowner can attend to them, but when there are potential negative and/or expensive consequences involved, it is important to be able to call on a professional plumber. Dan's Plumbing & Septic is the ideal choice for your plumbing needs.
Experienced Plumber In Anoka County, MN
If you have a leaky kitchen faucet, you may choose to replace the gasket and aerator, but if you then discover that the leak is not in the faucet, but instead under the sink or in a more concealed pipe, we strongly recommend seeking our help. Dan's Plumbing & Septic has been in business for many years, and our staff has the training and expertise to identify the cause of the leak, to repair the leak, and to ensure that no further damage can be done. It is understandable that you as a homeowner would be tempted to try to repair a leak so that you can limit the damage and the expense. Water leaks are notoriously difficult to locate, and the training and expertise that we possess is unmatched. Evidence of a leak can appear in a location that is actually quite far from the origin.
So, to avoid accidentally doing more damage to your home, we recommend contacting us for help. Our experience allows us to quickly identify the source of the leak without doing further damage to your home. Once the source of the leak is identified, our team will have the correct tools to complete the repair properly the first time. We understand that you may want to complete that kind of repair yourself, but the nature of water leaks often creates problems only a trained plumber can respond to.
Residential Plumbing Services
We also recommend working with a professional when it comes to installation of plumbing related components too. For example, you may be tempted to replace your garbage disposal. We do not recommend that you take on this kind of job. Because of the under-sink placement of garbage disposals, getting the appliance into the proper position and establishing proper leak-free connections can be difficult. If you live in Anoka County Minnesota and have a leak or need an appliance installed, call us at (763) 434-6814.