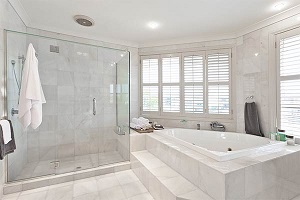 Dealing with a plumbing leak in your bathroom? Looking to remodel your bathroom? Whatever your situation may be, finding the right plumbing for the job should be a high priority. At Dan's Plumbing & Septic, we are the Seven County Metro area of Minnesota's trusted and experienced bathroom plumbing professionals that are perfect for the job. When it comes to experience, there's not many plumbing companies able to say that they've been in business since the 1960's. Our team, however, can, and we are surely proud of this accomplishment. We credit our decades of success to our fair pricing and focus on keeping our clients happy, no matter the situation. Developing a lifelong relationship with our clients is a priority. We want to be the only plumbing company that our clients call when their bathroom plumbing and beyond occur.
Bathroom Plumbing Repairs
A leaky sink, toilet or shower can lead to significant damage to your home if not handled appropriately. Our staff are quick to locate the point of origin of the leak. From there, we will repair the leak, replace any plumbing that may be needed and will ensure that the leak will not happen again in the future. Rest assured that you will receive a fast response from our plumbing team. We know how important repairing your plumbing is, so we are committed to getting the repairs done as quickly as possible. Some common bathroom plumbing repairs that we get calls about include the following:
● Water Leaks
● Constantly Running Toilet
● Faucet and Drain Repair in Sinks, Bathtubs and Showers
Bathroom Renovation Plumbing Experts
When renovating your bathroom, don't forget that you'll need a trusted and experienced bathroom plumbing professional on hand. You may need to move plumbing from one area of the bathroom to the other and you'll likely need your new shower, bathtub, toilet, vanity to be professionally installed. Our staff can handle any of your bathroom renovation plumbing needs big or small.
Dealing with plumbing in your bathroom is difficult and stressful. Rather than trying to tackle this project on your own or leaving it in the hands of an inexperienced MN plumber, let our trusted and experienced bathroom plumbing professionals handle the job for you. To schedule bathroom plumbing service with our crew at Dan's Plumbing & Septic, give our dedicated team a call today at (763) 434-6814.