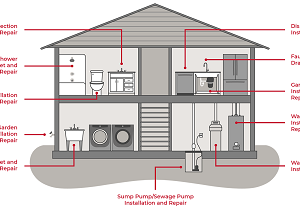 Almost any product you use throughout your life will need some sort of regular maintenance, whether it's as big as a car or as small as a coffee maker, and your plumbing system is no different. If you want to ensure you won't run into unexpected plumbing issues—or want to mitigate the chance of an emergency—then having a routine plumbing inspection by Dan's Plumbing and Septic is a must. We provide full service plumbing to all homes and businesses located in the twin cities metro area.
Why You Should Get A Whole House Plumbing Inspection
Having a professional plumber regularly inspect your system can save you time, money, and stress in the long run. A routine plumbing inspection can alert you to a potential issue that can be addressed before it becomes a catastrophe. If you experience faucets not working like they should, hot water not maintaining heat, or your water bill increases drastically, consulting a plumber is likely the easiest way to resolve the issue.
What's Included In A Typical Plumbing Inspection
A plumbing inspection is a comprehensive examination of your plumbing system components. Your plumber should check faucets, toilets, showers and tubs, supply lines, drains, piping, the garbage disposal unit, dishwasher, the water heater, as well as the washing machine hoses and lines. Anything that touches or drains water should be inspected. Your plumbing technician will check the components of your plumbing system for leaks, drainage problems, corrosion, cracks, clogs, and other issues. They may also drain and flush your water heater.
What To Do Following The Plumbing Inspection
Once the inspection is complete, you should be provided with a summary of findings, such as any small leaks noted or recommendations for repair. Even if the plumbing inspection doesn't reveal any critical issues, it can help you decide on when to upgrade some plumbing equipment.
Hire a professional plumber To Perform Your Inspection
When choosing a plumber, it is important to hire a knowledgeable, reputable company. Contact them and ask for a routine plumbing inspection or ask to sign up for a maintenance plan. Many plumbing companies offer membership plans or service contracts that include annual plumbing inspections. Point out any issues you've noticed when the technician arrives, and then let them get to it.
When you partner with Dan's Plumbing and Septic, you can feel confident knowing that our team will give you a thorough inspection and professional recommendations. In the greater Minneapolis/St. Paul area, contact Dan's Plumbing and Septic at (763) 434-6814 to schedule an appointment. We are fully licensed, insured, bonded, possess State licensure, and have plumbing contractors' licenses with the cities of Minneapolis and St. Paul. We look forward to becoming your preferred plumbing and septic company!