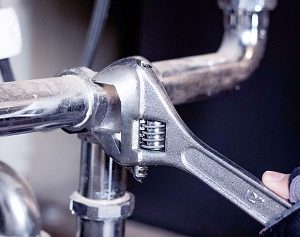 Plumbing issues can be very difficult to fix yourself. In fact, when you are dealing with issues with water in your home, you do not want to risk a burst pipe or leak that can cause serious damage. Dan's Plumbing & Septic provides high quality plumbing service, excellent customer service and affordable prices for customers in the north metro. Fortunately, for most homeowners needing to call a plumber is rare. This is likely because your plumbing system was installed well and if you have run into an issue, your plumber completed the job correctly the first time. When a plumber does a job right, it tends to last a very long time.
Protect your Home From Plumbing Problems
It is important to remember, however, that the materials used in plumbing are still susceptible to weakening, faltering, and failing. As the saying goes, a chain is only as strong as its weakest link. The functional equivalent in plumbing would probably be the locations where pipes are joined. We make sure that all pipe linkages are secure, made of reliable material, and are sealed to prevent them from leaking. If your original plumbing was installed many years ago, if the materials used were substandard, or if the materials used were excellent but contained a microscopic flaw, you could find one day that a leak has started.
Fast Plumbing Repairs North Metro
If you are lucky and the leak is in an obvious location, you can call us and we will respond with speed to fix the problem quickly. If you are not so fortunate, however, and the leak occurs in an area of your house where the pipes are hidden, your discovery of the leak may come as a result of finding rotted wood or soft areas in walls or flooring. In these cases, the damage can be more severe because too much time passed before you noticed the problem. Even a small amount of water that gets to where it should not be can cause significant damage. Dan's Plumbing & Septic will be able to quickly identify the source of the leak and make the necessary repairs.
Professional Plumbing Services in The North Metro
Fortunately, not all plumbing problems are catastrophic, of course. Some, like replacing a garbage disposal or installing a new toilet, are relatively simple jobs that homeowners may not have the experience or confidence to complete themselves. We can also perform those jobs and upgrades for you with ease. A good plumber is not only one who can fix major and minor problems, and all those in between, but one who is trustworthy and knowledgeable. The entire staff of Dan's Plumbing & Septic is both trustworthy and knowledgeable. When you have a plumbing problem, call us at (763) 434-6814, and we will be happy to help you.