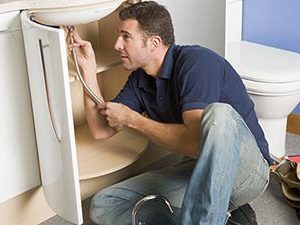 Backflow is the unintended flow of untreated, polluted, or contaminated water in a reverse direction. There are two types of backflows: back-siphonage and back-pressure. Back-siphonage occurs when a drop in pressure happens on the upstream side of a cross-connection. Back-pressure is when the pressure downstream, towards the end user, of the service connection becomes greater than that supplied. Backflow Preventers are a special type of control valve that, when installed and maintained properly, will prevent both types of backflows protecting your drinking water from contamination.
There are four types of approved backflow preventers:
● Reduced Pressure Zone: Designed to protect against both back-pressure and back-siphonage by keeping the water pressure lower than the supply water pressure. An RPZ is used to protect against high level health hazards that could cause illness or even death if the contaminate was consumed.
● Pressure Vacuum Breaker: Will protect against back-siphonage only and therefore may not be used where there is any chance of back pressure. Usually installed outdoors or where there are adequate drains due to its design. When pressure is applied it will spill a small amount of water as it activates.
● Spill-Resistant Vacuum Breaker: Very similar to the pressure vacuum breaker the SVB is designed not to spill water and therefore may be used indoors reducing the need for freeze protection.
● Double Check Valve Assembly: The DCVA is the most common type of backflow preventer. Used on landscape irrigation systems it provides protection against both back-pressure and back-siphonage and is the only assembly that may be installed below the surface grade. Being installed below grade reduces the need for freeze protection in areas that are subject to very cold weather. The DCVA may only be used on systems with a low health hazard, that is if the device fails the pollutant will not cause illness or death.
What Is A Cross-Connection?
A cross-connection is when an unprotected source of non-potable water or other health hazard is connected to a potable water system. Plumbing codes, ordinances, and rules strive to prevent these dangerous conditions from occurring, with the goal of isolating and/or containing the contaminants and pollutants away from potable water. During a customer service inspection, the inspector rules apply not only if a cross-connection does exist but also if a potential cross-connection exist. This allows for proactive prevention of backflow events.
Pressure Zone Breaker Installation And Service
At Dan's Plumbing and Septic, we're proud to offer our pressure zone breaker installation and service to industrial, residential, and commercial customers in the entire seven county metro area. If you're interested in learning more about our company, or if you simply want to set up a time for one of our expert technicians to visit your property, feel free to give us a call today at (763) 434-6814. We look forward to working with you soon!9oik