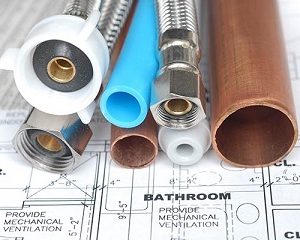 Bathroom plumbing is something that you don't think much about until you have a problem. Whether you have a shower, tub or toilet leak, or your bathroom sink is clogged, it is important that you have a trusted and experienced plumbing company on speed dial that you can reach out to for assistance. A plumbing company that will not make you wait days to assist you. Serving the Seven County Metro area in Minnesota, our team at Dan's Plumbing & Septic are proud to provide reliable bathroom plumbing assistance to homeowners in the region.
Plumbers You Can Count On
When there is a plumbing issue going on in one of your bathrooms, there is no time to waste. There are plenty of plumbing professionals across the Seven County Metro area, but not many that provide the level of experience of our dedicated team. We have been providing reliable bathroom plumbing assistance to our clients dating back to the 1960's. You can count on our team to be timely, attentive and respectful from the minute we arrive at your property until your plumbing repairs are complete.
Common Plumbing Repairs Made Easy
If you have considered trying to handle the bathroom plumbing repairs on your own, you may want to reconsider. Water can cause significant damage to your home and the last thing that you want is for your issues to get worse. As soon as we arrive, our trusted staff will find the source of your damage or water leaks. Locating the point of origin is not as easy as you may think. The leak isn't always visible, but thanks to our decades of experience we know exactly what to look for when searching for the source. Some of the common bathroom plumbing repairs that we complete with ease for our clients includes toilet, shower and tub leaks, as well as faucet and drain repair.
Bathroom Plumbing Renovations
If you are going through a bathroom renovation, our dedicated plumbing professionals can provide you with plenty of assistance. We can tackle the difficult task of relocating existing plumbing in the bathroom and can install new sinks, toilets, tubs and showers to help bring the dreams of your bathroom renovation to life.
Whether plumbing issues have recently arose in your bathroom or if you are in need of plumbing assistance for your bathroom renovation, look no further than Dan's Plumbing & Septic for reliable assistance. If you are in the Seven County Metro area of Minnesota and would like to learn more about our bathroom plumbing services, give us a call today at (763) 434-6814.