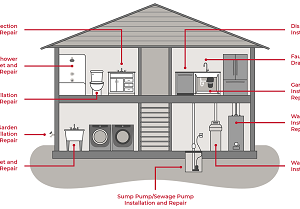 There's not much that is more exciting than building a brand new home. Not only do you get to customize the decisions made around the home, but you get to see your dreams turn into reality as your home progresses. There are some parts of the new construction project that you may not be thinking about, but they are extremely important. One of those key items that needs to be addressed is the plumbing for your new construction. If you are in the process of building a home in the Seven County Metro area of Minnesota, there's no better team to handle your plumbing service needs than our crew at Dan's Plumbing & Septic.
Efficient Plumbing Installation
When installing the plumbing in your dream home, you want this work to be completed by the experts. By choosing to work with our efficient plumbers, you'll be able to tap into a team that has been providing plumbing service since 1962. We've worked on all types of new construction and our decades of experience with plumbing installation will ensure that this part of the home building process runs smoothly from start to finish. Our hands-on staff will ensure that you are involved so that you truly understand the plumbing system in your new home. Hopefully, your new knowledge about the new plumbing system in your home will help ensure that there are no plumbing issues down the road. Our staff will efficiently install your plumbing so that it is built to last and able to withstand the varying temperatures of Minnesota.
Affordable Plumbing Prices
There are plenty of plumbing professionals in the area, but none that bring the level of experience and commitment to their customers as our committed team. As a family-owned business, we treat all of our customers just like they are part of the family. Not only do we provide elite plumbing service to our customers, but we also offer affordable pricing, plumbing education and the availability of emergency response if ever needed. We carry multiple licenses and certifications and there are never any hidden fees or costs with our services. Our end goal is to form a bond with our customers so that they choose to count on us for any plumbing need that is needed now and in the future.
If you are in the early stages of building your dream home around the Seven County Metro area of Minnesota, don't forget about your plumbing needs. Our team at Dan's Plumbing & Septic provides high-quality plumbing service for new construction. To learn more, give us a call today at (763) 434-6814.