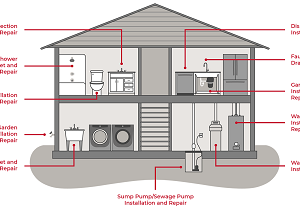 Building a new home is an exciting endeavor, but it comes with a host of crucial decisions to be made, including plumbing. Proper plumbing installation is not just about functionality; it's also about ensuring your space runs efficiently and remains problem-free for years to come. Today, we're diving into the world of new construction plumbing and how Dan's Plumbing and Septic in St Paul can turn your plumbing dreams into a reality.
Designing the Plumbing Blueprint
The first step in new construction plumbing is creating a detailed plumbing plan. Our team at Dan's Plumbing and Septic will work closely with you, your architect, and your contractor to design a system that meets your specific needs. We consider factors such as water supply, sewage disposal, and energy-efficient options to ensure your plumbing system is both effective and eco-friendly.
Choosing the Right Plumbing Fixtures
Selecting fixtures can be a fun but challenging task. From faucets to toilets and everything in between, we'll help you choose fixtures that align with your aesthetic preferences, budget, and water conservation goals. We're up to date with the latest trends and can recommend durable, stylish options that enhance your space.
Ensuring Plumbing Code Compliance
Building codes and regulations in Minneapolis are strict, and they vary depending on your location and the type of building you're constructing. Our plumbing experts are well-versed in local codes and will ensure that your new construction plumbing project complies with all necessary regulations, making the permitting process a breeze.
Efficient Water Distribution
Efficient water distribution is crucial to prevent water wastage and maintain consistent water pressure throughout your property. We'll design a plumbing layout that optimizes water flow while minimizing energy consumption, ultimately saving you money on utility bills.
Eco-Friendly Plumbing Solutions
Dan's Plumbing and Septic is committed to sustainability. We can recommend and install eco-friendly plumbing solutions like low-flow fixtures, energy-efficient water heaters, and even rainwater harvesting systems, reducing your environmental footprint and lowering your long-term operating costs.
Quality Plumbing Installation and Testing
Our experienced technicians will handle all aspects of your new construction plumbing installation with the utmost professionalism and attention to detail. Before completing the project, we conduct rigorous testing to ensure that everything is functioning correctly, leaving you with peace of mind.
When it comes to new construction plumbing in St Paul MN, Dan's Plumbing is your trusted partner. We combine expert knowledge, state-of-the-art technology, and a commitment to excellence to deliver plumbing systems that stand the test of time. Whether you're building a new home, renovating an existing space, or constructing a commercial building, our team provides plumbing solutions that meet your needs, exceed your expectations, and ensure long-lasting performance and follow all state, county and city guidelines. Contact us today to discuss your project and get started on the path to plumbing perfection.