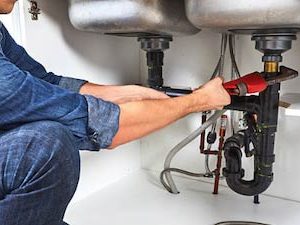 There is a lot that goes into a kitchen remodeling project. Sure, painting the cabinets, choosing the floor and picking out new countertops is part of it, but there are also other aspects of the job that you cannot cut corners on. That includes your plumbing needs with this kitchen remodeling project. That's where a partnership with our team at Dan's Plumbing & Septic comes in handy. We've been providing kitchen remodeling plumbing services in the northern suburbs dating all the way back to 1962, and we don't plan to stop anytime soon!
Thinking Through The New Kitchen Layout
There are times with a kitchen remodel where the layout of the kitchen entirely changes. If that happens, then it means your kitchen plumbing likely needs to be relocated as well. This job is one that should be handled only by the experts and our team of expert plumbers are eager to help you turn your dream kitchen renovation into a reality. Once we see the details of your new kitchen layout, our crew can safely relocate your plumbing pipes and drain lines. The critical step for you as the homeowner is to get us involved in the planning process early so that there are no hiccups with your plumbing during the project. The project can be handled much more easily if we are involved in the early stages rather than reaching out to us after a lot of the work has already been completed.
New Appliance Installation
With most kitchen remodeling projects, an upgrade to new kitchen appliances often occurs. Sure, you can go to the local home improvement store to purchase your new refrigerator, dishwasher or kitchen sink, but the installation process isn't nearly as simple. Thankfully, our team of plumbing professionals have decades of experience replacing and installing new kitchen appliances. We'll get these new appliances installed correctly the first time around to ensure that you don't run into any potentially harmful issues down the road.
If you have just begun brainstorming the details of your upcoming kitchen remodeling project, don't forget about your plumbing needs. Serving Minnesota since 1962, our staff at Dan's Plumbing & Septic is the perfect team for the job. Reach out to us early so that we can be sure every aspect of the plumbing process is covered during your kitchen remodel. To learn more about our kitchen remodeling plumbing services or to schedule an appointment, give us a call today at (763) 434-6814.