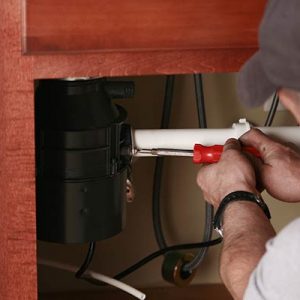 Whether you cook in your kitchen all the time or you live off of frozen meals and leftovers, a garbage disposal in your kitchen can make your kitchen life much easier. Gone are the days of clogged drains and pipes from food that has slipped through the drain catcher. No more digging out nasty food particles with your hand and tossing them into the trash. A garbage disposal is an excellent way to deal with your kitchen waste and make your life a whole lot easier. At Dan's Plumbing & Septic in Minnesota, we offer garbage disposal installation services. Whether you are looking to get a new disposal or repair the existing one in your home or business, we are here to help. Just give us a call at (763) 434-6814 for any questions or to schedule a repair or installation.
Why Choose a Garbage Disposal?
Garbage disposals are definitely an item in the home that people tend to say, "if you know, you know." Cleaning and disposing of uneaten food is so quick and easy that it saves you lots of time in the kitchen. This, in turn, also reduces your trash accumulation helping your local landfill. As the food scraps slip down into your disposal and annihilate it into tiny pieces, it allows for free flow down your pipes. Alternatively, larger foods that slip by your strainer can be costly, requiring a plumber to make larger repairs. Generally, garbage disposals are low maintenance and inexpensive to run. If you know, you know.
Garbage Disposal Repair & Replacement
As a locally owned and operated small business, we take pride in every service we do here at Dan's Plumbing & Septic. For over 50 years, we have offered our customers quality plumbing services that last. If you don't have a garbage disposal in your home yet, let our professionals install one quickly and efficiently so you can immediately begin enjoying the benefits. If you are currently having issues with your existing disposal, let our professionals assess the problem and determine whether or not a repair or replacement is necessary. As always, we are committed to providing you with the best possible customer service, giving your honest communication and affordable options.
If you are looking for an experienced plumber in MN for any type of garbage disposal services, give us a call today. Do not go another day scooping out gunk from the bottom of your sink drain on your own. Instead, contact our dedicated team at Dan's Plumbing & Septic today by calling (763) 434-6814.