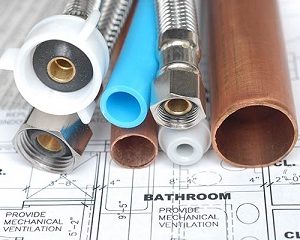 You can probably point out the HVAC vents in your home, but could you do the same with your plumbing vents? It's okay if you can't; they're likely hidden in the walls, and the main stack sits on your roof. Plumbing vents ensure that you and your family don't have to worry about toxic gas and odors backing up into your house. Most homeowners don't even know their homes have plumbing vents, let alone how to tell when something has gone wrong with them.
The main purpose of plumbing vents is to keep sewer gas from leaking. Vents help regulate air pressure in the plumbing pipes so that water can flow correctly through the system. Plumbing vents maintain air pressure on both sides of the P-trap – the bend in the pipes below plumbing fixtures. Without equal pressure here, water would be pulled toward the end with less pressure. As water flows, pressure can build. A buildup of too much pressure can cause wastewater to back up through fixtures and drains.
What Happens If The Plumbing Vents Are Clogged?
If your plumbing vent gets clogged, your plumbing system might not function as it should. When your plumbing vent becomes clogged, ghost flushes and sinks that won't simply drain properly show up. And if neglected, unpleasant odors can come inside your home, posing serious health risks to your family.
How To Tell If Plumbing Vents Are Clogged
Since the opening of a vent stack is outside (usually on the roof), it's vulnerable to outdoor elements. That's why it's easy for the vent to get clogged — dust, debris, leaves, and other things can block its opening. It's during such times that you'll start noticing one or more of the following symptoms: water taking a long time to drain, dry or empty toilets, foul smells, or gurgling sound as water drains in sink.
What To Do If You Suspect That You Have A Clogged Plumbing Vent
If you are experiencing any of the warning signs and suspect that you may have one or more clogged plumbing vent pipes, then you should contact a plumber right away to avoid bigger problems.
If you're in need of any type of plumbing or septic service, whether it's an emergency or an issue that you've been dealing with for quite some time, don't hesitate to reach out to the experts at Dan's Plumbing and Septic in the St. Paul/Minneapolis, MN area today. When you partner with Dan's Plumbing, you can feel confident knowing that our team will give you a thorough inspection and professional recommendations. Contact (763) 434-6814 to talk with our experts or schedule an appointment online. We are fully licensed, insured, bonded, possess State licensure, and have plumbing contractors' licenses with the cities of Minneapolis and St. Paul. We look forward to becoming your preferred plumbing and septic company!