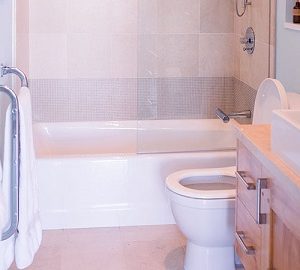 Renovating your bathroom in the near future? This can be a fun project where you can turn your bathroom dreams into a reality. That is, as long as you have the right professionals handling the job. When it comes to your bathroom renovation plumbing needs, there is no better team to handle these services in the Seven County Metro area of Minnesota than Dan's Plumbing & Septic. Don't cut corners with your bathroom renovation project. Leave the plumbing services for our expert plumbing professionals.
Thanks to our high level of service, attention to detail, knowledge and experience dating back to 1962, our plumbing experts lead the way when it comes to plumbing services. To top things off, all of our plumbing services, including bathroom plumbing, are offered at an affordable price. We are more focused on developing a long-lasting relationship with our clients than trying to capitalize on this one project. We've always focused on the needs of our customers and that will never change.
Plumbing Services During A Bathroom Renovation
When you first start thinking about your bathroom renovation, you're likely thinking about colors, style, etc. There's quite a bit of water access in a bathroom that needs to be quickly addressed. If you are purchasing a new bathroom vanity, you've got to have someone properly install the sink. If you'd like to rearrange your bathroom and move the shower from one corner to the other, the entire plumbing system needs to be reconfigured. No need to worry as our staff will gladly handle this difficult project for you. Looking to install a new Whirlpool tub or a new energy efficient toilet? Let our staff handle these bathroom and renovation plumbing services for you.
Complete Bathroom Renovation Plumbing Services
At Dan's Plumbing & Septic, we can handle it all when it comes to your bathroom renovation plumbing needs. You can count on our team to complete our portion of your renovation project in a timely manner so that it doesn't delay the completion of the overall project. Additionally, rest assured that our plumbing services are built to last and are backed by decades of experience. No matter how big or small your bathroom renovation may be, we've got you covered. If you are in the Seven County Metro area of Minnesota, give our plumbing specialists a call today at (763) 434-6814 and let us get started on your bathroom renovation plumbing needs in the near future.