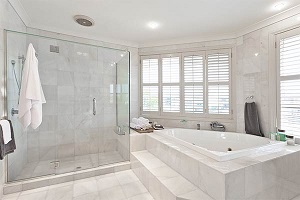 Installing a whirlpool tub can give you a spa-like environment in the comfort of your own home. It's a dream renovation for many homeowners. There are things that need to be considered however, before making a bathtub upgrade work for you functionally and aesthetically.
Complete renovation plans first
Even though installing a whirlpool tub might be the crowning glory of your renovation project, choosing the tub should be the last thing you do, not the first. It's exciting to go to the kitchen and bath showroom and learn more about all the incredible features a modern jetted tub has to offer but make all the other changes your bathroom needs first and that will narrow down your options, helping you find the right model tub for your space.
Determine what kind of tub will fit in the space available
When it comes time to choose a bathtub model, make sure you assess the measurements of the tub thoroughly. Some tubs weigh a substantial amount, so make sure the floor is designed to handle it when it's full of water and people. You should also make sure it can fit through your doorway, or else you'll be in for an unpleasant surprise when you try to get it into your home.
Consider all plumbing and electrical needs
If you're re-configuring your bathroom to install the tub, you'll likely have to call in a plumber. The best way to avoid a major headache is to get the specs for the tub then hand it off to an experienced licensed plumber. Even if you aren't moving the tub to another location, you will have to make sure the connections and motor box are easily accessible both for installation and for repairs. Whirlpool tubs have high electricity demand, so your plumber may opt to call in an electrician to help with the project as well.
Experienced plumber for whirlpool tub installation
Dan's Plumbing and Septic is fully licensed, bonded and insured and has received a Minnesota State Plumbing Contractor License, as well as a City of Saint Paul Plumbing Contractor License and a City of Minneapolis Plumbing Contractor License. We have been in business for more than forty years, serving customers in the Seven County Metro area of Minnesota. If you are considering a whirlpool tub for your bathroom, call the team at Dan's Plumbing & Septic at (763) 434-6814 for a free estimate. We will respond quickly and can get started on a new project in just a matter of days. We can help you make your dream for your bathroom a reality!