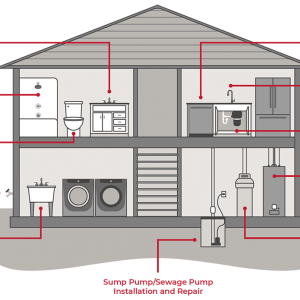 There are certain home repairs and improvement projects that you should leave to the professionals and plumbing is definitely one of them. Anytime you are dealing with water inside your home, you want to make sure that experience is behind the individual performing the repair or installation. If you are in the Anoka County, MN area, the trusted plumbing & septic service provider that you can count on is Dan's Plumbing & Septic.
As mentioned, experience is critical when it comes to plumbing repairs, services and installation. Our trusted staff has been serving this great community with all of their plumbing needs since 1962, and there are no plans of stopping anytime soon! We are the oldest plumbing and septic company in Anoka County, but that doesn't stop us from continuing to learn. We continuously expand our plumbing and septic knowledge on the latest and greatest advancements and techniques in the industry. Additionally, we have our Minnesota State Plumbing Contractor License, our Minnesota State Septic System Cleaning & Maintenance License and we are MPCA certified. This gives our clients the peace of mind that they will be well taken care of by our expert team.
Common Plumbing Services Provided
The good news is that no matter what type of plumbing or septic issue you are dealing with, our committed team can handle the job. The most common plumbing and septic services that we provide members of the Anoka County, MN community include the following:
● Septic System Maintenance – To ensure that your septic system stays in good shape for the long haul, you need to have regular septic system maintenance performed on it every 2-3 years. Let us handle this maintenance project with ease.
● Kitchen Plumbing Needs – Whether you need to install a new kitchen sink or garbage disposal, or you are going through a full kitchen renovation, our staff are kitchen plumbing experts.
● Bathroom Plumbing Needs – As our motto goes, Our "Flush" Beats Your "Full House". Don't let a small plumbing issue in your bathroom turn into a big problem! Count on us to take care of your bathroom plumbing needs.
If you are in need of plumbing or septic services, make sure that you choose the right team for the job. As your trusted and experienced plumbing and septic service provider in Anoka County, MN, there's no better partnership than one with our crew at Dan's Plumbing & Septic. To schedule service in the near future, give us a call today at (763) 434-6814 and we'll get you on our calendar soon!