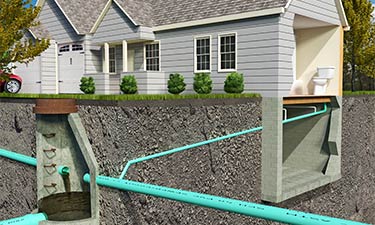 A septic tank system is a vital component of your home. While the system often goes unnoticed, it is hard at work twenty-four hours a day treating and disposing of your household waste. As the adage "out of sight out of mind" implies, many homeowners ignore or fail to schedule regular septic system maintenance. A neglected septic system can lead to a myriad of problems such as an unpleasant sewage odor, seeping or overflowing septic tanks and leach fields in addition to backed up or overflowing toilets that could introduce toxic sewage into your home.
Septic System Maintenance Saves You Money

Regular maintenance fees of $250-500 every three to five years is a bargain compared to the cost of repairing or replacing a malfunctioning system, which can cost between $3,000 and $7,000 for a conventional system. Alternative systems can cost even more. The frequency of pumping required for each system depends on how many people live in the home and the size of the system.
Septic System Inspections Protect Your Property

An unusable septic system or one in disrepair will lower your property value, and potentially can pose a costly legal liability.
Regular Septic Tank Pumping Keeps You Healthy
Household wastewater contains disease causing bacteria and viruses and high levels of nitrogen and phosphorus. If a septic system is well-maintained and working properly, it will remove most of these pollutants. Insufficiently treated sewage from septic systems can cause groundwater contamination, which can spread disease in humans and animals. Improperly treated sewage poses the risk of contaminating nearby surface waters threatening swimmers with various infectious diseases, from eye and ear infections to acute gastrointestinal illness and hepatitis.
More than four billion gallons of wastewater are dispersed below the ground's surface every day. Groundwater contaminated by poorly or untreated household wastewater poses dangers to drinking water and to the environment. Malfunctioning septic systems release bacteria, viruses, and chemicals toxic to local waterways. When these pollutants are released into the ground, they eventually enter streams, rivers, lakes, and more, harming local ecosystems by killing native plants, fish, and shellfish. Learn more about how septic systems can help support greener, more sustainable communities.
Schedule Septic System Maintenance
Septic system maintenance is extremely important as replacing your entire septic system is extremely expensive and disruptive to your property. If you're interested in learning more about our septic system pumping services, don't hesitate to reach out to our team today. Dan's Plumbing and Septic offers competitive pricing, and we always do our best to respond to emergencies as quickly as possible. To schedule an inspection or septic pumping service, within our wide service area, give us a call today at (763) 434-6814.