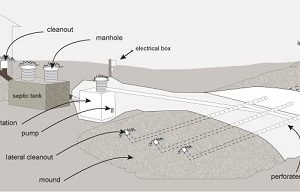 When you think about making an investment in your home, you may first think about a new roof, or newly painted siding, a screened in porch or something else that makes your house stand out and look fresh and new. Not many people want to think about investing in their septic system. In fact, many homeowners with a septic system do not spend much time at all thinking about their system. However, like anything, routine maintenance on your septic system is critical to ensuring that it works the way it should for an extended period of time. Dan's Plumbing & Septic focuses on septic system maintenance so that our clients do not have to. Ignoring your septic system can make your home stand out to your neighbors in quite a different (and very negative) way.
Routine Septic System Cleaning And Pumping
Septic systems should not be worked on by homeowners. There are simply too many things that can go wrong. And, when something goes wrong with a septic system, it can go very wrong and leave your home and yard smelling like sewage. When you partner with the team at Dan's Plumbing & Septic you will find that you can have your septic system maintained and serviced by professionals that know what they are doing. We can handle difficult repairs, simple issues and everything in between. Making sure that you do not end up with a septic system problem on your hands is our job. Septic cleaning is a regular part of system maintenance. It is necessary and should be completed at least every three to five years. We also complete other routine septic system maintenance including replacing baffles, replacing lift station pumps, installing/replacing risers or manholes. Minnesota law requires all septic system cleaning or pumping must be completed through a manhole.
Prevent A Septic System Problem
Dan's Plumbing & Septic serves the entire seven county metro area in Minnesota. We have many years of experience with septic system cleaning, repair and general maintenance for residential and commercial properties. When we come to your home, we will be ready to answer any questions that you have before we get started and will leave your home clean when we leave. Our staff have many decades of combined experience and will provide you with the best possible service at an affordable price. For more information about our septic system cleaning, pumping and maintenance services, give us a call at 763-434-6814.