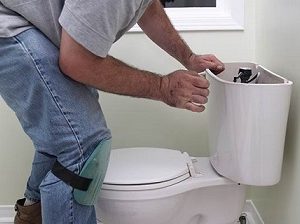 Have you ever searched for the definition of a toilet? To summarize Google, a toilet is a large bowl that is connected to a system for flushing away the waste into a sewer or septic tank. It's no secret that we don't really think of how much we use a toilet until we can't use it or don't have one available to us. If you are in need of toilet installation or repair, Dan's Plumbing & Septic has you covered. We are a full-service plumbing and septic company that has been serving in Minnesota since 1962. If you are looking for a quality, professional toilet installation and repair company that gets the job done right the first time around, we should be your first and only call.
Professional Toilet Installation
Believe it or not, there are many different variations of toilets out on the market. When you are choosing your toilet, it's important to have a professional who knows the difference between quality and a scam. Whether you are building a new bathroom or you are looking to replace your current, faulty toilet, our team of professionals will be honest with you about your space and can offer recommendations that will fit both your budget and your space. In general, toilet replacements and installations are not terribly expensive. However, if you install it incorrectly, you are at risk for water damage to your home or business. Is that something you want to risk as a DIY job?
Professional Toilet Repairs
Typically, the "life expectancy" of a toilet is anywhere from 8-15 years. When problems start to arise, one of our professionals can assess the issue and determine if it can be repaired versus replaced. Common toilet problems include the toilet running water constantly, not flushing completely, not being secured to the ground, gurgling noises, water levels off, cracks, clogs, and even leaks. If something like this is happening to your toilet, it's time to turn to the professionals. We will assess the damage, repair the issues, replace any malfunctioning parts and make recommendations as we see fit. At the end of the day, we will leave your bathroom clean, smelling great and ready for you to use once again.
For more information about our professional toilet installation and repair services in the Minnesota area, give our locally owned toilet installation and repair company a call today. Contact Dan's Plumbing & Septic today at (763) 434-6814 or schedule a service with us online.