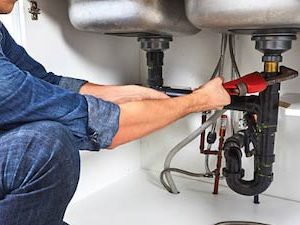 Looking to remodel your kitchen in the near future? There's more to just choosing new countertops and a backsplash when renovating your kitchen. To ensure that your kitchen remodel goes smoothly from start to finish, it is critical that you have a team of kitchen plumbing professionals in MN on your side. That's where our professional kitchen plumbing experts at Dan's Plumbing & Septic come into play. We're committed to handling all of your kitchen plumbing needs, whatever they may be.
Dating all the way back to 1962, our dedicated team of kitchen plumbing professionals have been providing reliable and affordable plumbing services to homeowners in MN. As a family-owned plumbing company, we treat all of our clients just like they are part of the family. We love being a part of a kitchen renovation and ensuring that all plumbing aspects of the remodel are handled with extreme precision. Our experienced plumbers are fully bonded, insured and we have our Minnesota state plumbing contractor license.
Common Kitchen Plumbing Services
If you are renovating your kitchen, chances are that you will likely be replacing your dishwasher and sink. These are common kitchen plumbing services that we regularly perform. Let us install your new energy efficient dishwasher that will help you save money on your water bill. Looking to install a new farmhouse sink in your kitchen? We've got you covered! We can also install your new garbage disposal as well. We will work to make sure that garbage disposal backups don't occur in the future.
Kitchen Plumbing Relocations
If your renovation will require some plumbing relocation in your kitchen, you want to make sure this level of work is handled by the experts. Our staff is here to help you relocate your kitchen plumbing so that you can maximize the space in your kitchen. Don't cut corners with your remodel. Instead, let us handle the plumbing relocation so that you can truly turn your kitchen renovation into a reality.
If you are in the planning stage of your kitchen remodel, don't forget about the importance of partnering with a trusted plumbing team in MN. When it comes to professional kitchen plumbing services, there's no better team to handle the job than our experts at Dan's Plumbing & Septic. To schedule an appointment with our experienced plumbing crew, give us a call today at (763) 434-6814.