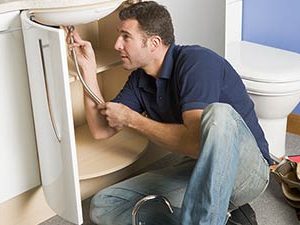 As temperatures begin to fall and the nights get colder, it's a sign that fall is on our doorsteps. Fall brings many wonderful colors to the leaves, cooler days which get more people outdoors, and is a precursor to the cold winter months that are inevitable. If you notice, even wild animals use the fall to prepare for the winter – gathering food and seeking out proper shelter for hibernation. Most people do not engage in this preparation until it's too late. Consider using the fall season to prepare your home's plumbing for the winter months. Taking some simple preparatory steps can save you thousands of dollars in repair costs come winter.
Checking For Leaks: It's a good idea to walk around the house and seek out any leaks that may occur. Regardless of the speed of the drip, even a little water that remains near pipes and fixtures can freeze, expand, and burst pipes during the cold months. Spotting a leak in the fall allows for plenty of time to get a plumber out to repair or replace the fixture.
Seal Gaps Around Pipes: It is not uncommon to find gaps around the pipes that enter the foundation or exterior wall of the house. These gaps not only allow for critters to enter the premises but allow cold air to enter. The cold air coming in not only works against your heating of the house but creates a cold air buffer around your pipes leading to freezing and possible rupture.
Flush The Water Heater: The average water heater should last between eight and twelve years. To prolong the life of your water heater, reduce your utility bills, and ensure that you have the most efficient system, it is advisable to flush your water heater. This reduces or eliminates any sediment buildup in the tank and allows the water to warm more efficiently.
Inspect Sump Pumps For Proper Operation: As wet weather season is upon us, now is a great time to check any sump pumps to ensure they are operational. This simple step can ensure that, in the event of any flooding, your pump kicks in and ejects water properly.
Disconnecting Garden Hoses: Unless you have planted fall season grass and need to water regularly, it's a good idea to disconnect the garden hose and empty the hose completely of any remaining water. Failure to drain the water from the hose will cause the water to freeze, expand, and rupture your hose.
Expert Plumbing Inspection And Repair Services In Minneapolis
These tips can help you save thousands of dollars because of freezing and ruptured pipes. Let the plumbing experts at Dan's Plumbing and Septic inspect your system this fall and help ensure you are fully prepared for the cold winter months ahead. To schedule an inspection or repair services, call (763) 434-6814.