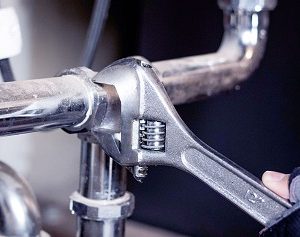 Many homeowners develop stronger home repair skills over time. However, if you are like most homeowners, you may find that there is a limit to your ability to do certain jobs. It is nothing to be ashamed of. Most people have the ability to understand how a repair job must be done, but they may not have the tools necessary to complete the job or they may realize that the problem simply exceeds their experience. This is often true about installing items that require plumbing or plumbing connections. Dan's Plumbing & Septic has the knowledge and experience to save you time, money, and frustration.
Garbage Disposal Installation
A garbage disposal is a nice feature to have in your house. They can also be challenging to install on your own, so we recommend that they be installed by a professional. This is especially if you also have a dishwasher. Most homes do have both these days, and the connections between the two features tend to be located in places that are hard to reach. Ensuring that the plumbing connections are made securely requires the touch and feel, as well as the knowledge and experience that our crew brings to the job.
Laundry Tub Installation
Unlike garbage disposals, not all homes come standard with a laundry tub. Laundry tubs are appealing to people who have active lifestyles. Pre-washing clothing that has gotten soiled in sports, hiking, fishing, or other outdoor activities can prevent problems from developing with your washing machine. But installing a laundry tub requires knowledge of plumbing that most homeowners do not have. It is usually not as simple as connecting the laundry tub to an existing water line with unused spigots. Any time you are installing a product that uses water, you have some risk of creating the potential for water line failure. Our experience will all but eliminate that potential, and soon you can be enjoying the benefits of your new laundry tub.
Bathroom Toilet Installations
The toilet can be surprisingly complicated to install. A properly installed toilet not only is leak-free, it also prevents foul sewage odors from emanating in the bathroom where the toilet is located. It is not enough to get the plumbing connections right; it is also vitally important to ensure that the toilet is properly sealed to the floor. Homeowners often find that aspect of toilet installation to be challenging.
If you have a plumbing installation need, we will be happy to help you. Call us at (763) 434-6814 to speak with a member of our team!