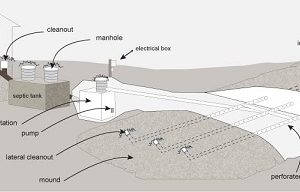 Dan's Plumbing & Septic provides our customers in the Twin Cities northern suburbs with a full range of septic system services, from repair and maintenance to comprehensive plumbing related services. The concept of a septic system is fairly simple in that it is designed to move waste created in the household outside the home. Most septic systems that were installed after 1974 are made from precast materials–either concrete, fiberglass, or plastic–and they share some more modern characteristics.
Modern septic systems tend to be more efficient and better constructed than the septic systems used many years ago. But that does not mean that they can be considered problem free. The septic tank itself is a good example. The tank receives the sewage and water waste from your home, and once it is in the tank, it is processed chemically. Inside the tank, from the bottom up, are the sludge layer, the effluent layer, and the scum layer. To most of us, the contents of a septic tank is just a gross mix of materials we do not want to think about after they have left our homes. This response is understandable, of course, and if you have ever smelled a problematic septic system, you know exactly why.
Septic System Issues
Things can and do go wrong with septic systems, however; and when they do, it is important to be able to contact a company such as Dan's Plumbing & Septic, knowing that our response time will be fast, our service will be excellent, and the problem with your septic system will be fixed. If the chemical balance between and among the three layers in the septic tank is off, the waste will be processed less efficiently, which can lead to problems that you begin to notice in your home. The most common sign is a faint odor of sewage coming back into the house by way of bathroom drains, toilets, and bathtubs. When that smell is detected in the house, it can also be an indicator of problems elsewhere in the system. You should get professional help as quickly as possible so that the problem can be repaired before it gets worse.
High Quality Septic System Maintenance And Repair
If you notice that drains empty more slowly than usual, whether there is an odor associated with the pace of draining or not, you may have an issue that only a company like Dan's Plumbing & Septic can fix. Fixing septic issues is what we do. Call us at (763) 434-6814 if you have any questions.