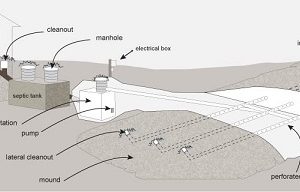 As the days lengthen and temperatures rise, spring cleaning may be on top of your mind. To stay organized and on track with tasks ahead of time, it's wise to plan for them in advance – including septic maintenance! However, don't start too soon as colder weather can have an adverse effect on septic systems in different ways than warmer ones do. Where should you begin this spring to ensure your septic maintenance is on track?
Clear your drains and gutters: Though you might think springtime rain will clean out your storm drains and gutters, most of it won't. Take some time out on a sunny weekend to keep these drains clear so you don't have to go outside in the rain for this chore.
Ensure your drain field is clear: After clearing storm drains and gutters, it is essential to clear out the drain field. This final part of your sewer system is particularly vulnerable to contaminants and impurities due to heavy rainfall causing flooding indoors or back into pipes. Monitor this area for signs of stress and ensure more water does not enter the drain field due to inadequate water management.
Schedule a spring septic tank pump: Though septic pumping typically only needs to be done once every three to five years, it is wise to have an annual checkup. Overfilling can cause issues with separation between solids and wastewater in your tank; spring cleaning checks can help determine if servicing is necessary. Even if there are no immediate needs for a complete pump replacement, replacing effluent filters now will save money in the long run.
Take care of your cleaning products: Be mindful when using any cleaning products indoors or outdoors that could impact the septic system. One example is chlorine bleach. There are many natural, safe alternatives that can be used instead to safeguard microorganisms in your septic tank; even small amounts of hazardous chemicals may pose a health risk.
Make Sure Your Septic System Is In Top Condition This Spring!
Are you getting ready to start spring cleaning your home? Here is a checklist that should be kept in mind as you spend time this weekend doing serious tidying up and cleaning. Remember: Take care of your septic tank before it becomes an expensive issue!
Spring is the ideal time to refresh your septic system and have it pumped! Dan's Plumbing and Septic can assist you with any septic system or plumbing repair, replacement, or inspection. We provide these services throughout Minnesota; inspecting a septic system can be challenging due to its many components. To arrange an inspection or service call, please call our team at (763) 436-8814 or email us.