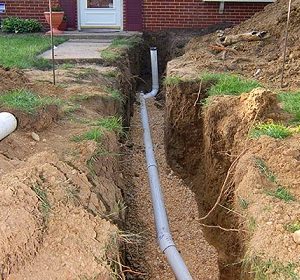 At Dan's Plumbing & Septic, we provide full plumbing and septic services for our Minnesota residents. From maintenance to repairs and even replacements, we are here when you need us most. In an effort to keep our customers and their residential and commercial properties running as smooth as possible, our experts share advice on maintaining your septic system on a continuous basis.
Septic System Basics: First things first, having a good knowledge base of what your septic system is and how it functions will give you a better understanding of how to maintain it. Your septic system is methodically designed to collect, breakdown and then disperse your wastewater away from the home and into a sewage treatment system. Depending on where your property is, your septic system may look different than others. Most commonly, home and business owners have septic tanks that are either accompanied by a drain-field or mound system. In order to keep your septic system running smoothly, we should all adopt good habits throughout your property.
Spacing Out Water Usage
If you are delaying doing laundry until your house is going to explode with it, you are doing a disservice to your septic system. Spacing out your water usage helps your septic system recover. Using too much water can overwhelm the drain-field that your system was designed for and cause you problems long term.
Garbage Disposals And Your Septic Tank
While we like to think that a garbage disposal magically gets rid of the hassle of throwing things away, it can actually just be a lazy, costly mistake. Sure, the garbage disposal cuts items into small pieces, but those pieces do not break down and can cause major damage to your lift pumps and drain-field. So please just take out the trash! Also, don't treat it as trash! If you can put it in your hand, it needs to go into the garbage! Otherwise, it will not break down in your septic and you will start to create problems for yourself very quickly.
Antibacterial = Antiseptic
Antibacterial soaps and cleaning products that are "antiseptic" will cause the liquid in the tank to mix and then disrupt the mixture in the drain field and make it extremely difficult to treat.
Driving over your Septic
While septic systems are tough, they are certainly not unbreakable. If you wouldn't drive over the tank itself, don't try and drive over it while it's buried on your property! Your septic system can be damaged when increased weight is applied. No driving over the septic!
Want to learn more tips and tricks about maintaining your septic system? For more information about your septic system and our services, give us a call today. Contact Dan's Plumbing & Septic today at (763) 434-6814.