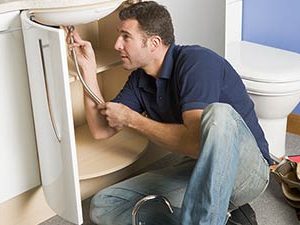 Are you in the beginning stages of building the home of your dreams in Minnesota? Are you deciding on the many details of your new home like colors, styles, size, etc.? These key details are very important and fun to think about, but don't forget about the other parts of the home that are more behind the scenes like your plumbing. When it comes to your professional plumbing needs for your new home in Minnesota, look no further than Dan's Plumbing & Septic.
Experienced Plumbers
As a family-owned plumbing company, we've been serving our customers all the way back to 1962. During these many decades, we have provided professional plumbing services to countless individuals that have built their own home. The last thing that you want is for your brand-new home to have water and plumbing issues down the road. By teaming up with our experienced plumbers, you'll be able to rest easy at night knowing that all of the plumbing in your home was installed with extreme precision.
Plumbing Installation Plan
Plumbing installation is more than just installing pipes. Our team has plenty of experience planning out plumbing layouts for new homes. When we develop the plumbing layouts, we always make sure that our clients are involved so that everyone involved has a full understanding of the plumbing plan before any installation work begins. This gives our clients the knowledge of where their plumbing pipes will be located and will help them be able to quickly identify any issues long down the road, if there ever are any. Not all plumbers in Minnesota will take the time to let you as the homeowner become involved in the plumbing installation plan. At Dan's Plumbing & Septic, it is a common part of the process for our staff, likely because we treat all of our clients just like they are part of the family.
If you are looking for the right professional plumbing company in Minnesota that can handle all of your plumbing needs for your new dream home, you have found the right team in Dan's Plumbing & Septic. For nearly half a century, we've been providing full-service plumbing services to our clients, and we would love for you to come join the family. To learn more about our professional plumbing services for new construction or to schedule service, give our dedicated crew a call today at (763) 434-6814.