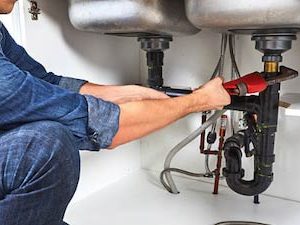 Your kitchen is the heart of your home. You likely spend a lot of time in this room, preparing meals, eating meals and gathering with your loved ones. When it comes to your kitchen, you want to be able to complete tasks with ease. In fact, that is one of the primary functions of your kitchen appliances. If you are interested in a kitchen remodeling project or need a plumber for an issue you are having, contact the team at Dan's Plumbing & Septic.
Kitchen Appliance Installation And Plumbing Relocation
Kitchen plumbing is a key part of any kitchen remodeling project. You want to make sure that your sink, dishwasher and refrigerator are in good working condition during and after a remodel so that they do not cause any water damage. Avoiding water damage is key in a kitchen renovation project. The team at Dan's Plumbing & Septic can help you with installing new appliances like a new farmhouse sink, a garbage disposal, a dishwasher, or refrigerator. We can also move your plumbing from one area of your kitchen to another if that is part of your kitchen renovation project. We have experience moving pipes and drain lines and ensuring that your new plumbing area works just like it should. When it comes to plumbing relocation, it is always helpful to complete it early in the renovation project.
Plumbing Contractor In Minneapolis/St. Paul
Dan's Plumbing & Septic has been a trusted plumbing contractor in the Minneapolis/St Paul area for more than fifty years. We provide excellent customer service, affordable pricing and a timeline that is faster than many of our competitors. As a small, family-owned business, we truly believe that connecting with our customers is the key to our long term success. We stand behind our work, communicate clearly, answer questions and do exactly what we say we will. When you work with us, you can be confident that the job you hire us for will be done right the first time. We use the most up to date tools and have experience with all types of issues. Our main goal is to ensure that you do not have any problems once we leave. No water damage, no leaks. We have our Minnesota State Plumbing Contractor License as well as our City of Minneapolis and City of St. Paul Plumbing License.
If it is time to consider a kitchen renovation project, do not forget to include a professional plumber in your plans. Call the team at Dan's Plumbing & Septic at 763-434-6814 to schedule a time for one of our experienced staff members to come to your home and help you plan!