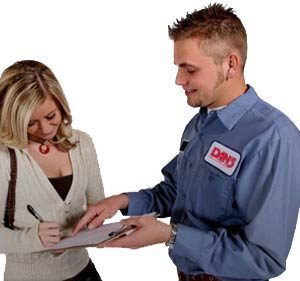 Kitchen plumbing tends to be pretty durable and strong, but like any aspect of a home, things can go wrong. Dan's Plumbing & Septic offers a full range of kitchen plumbing repair services, including kitchen plumbing repair. Houses have become more and more complex and modern as time has passed, and most kitchens now have a dishwasher, a refrigerator with built-in water dispensers and ice makers and a disposal in addition to the kitchen sink. If you are concerned that you have a plumbing problem in your kitchen, do not delay. Contact our kitchen plumbing repair contractors today. We would be glad to answer any questions you may have.
Importance of Kitchen Plumbing
Regardless of what kitchen appliances you own, we can repair them when something goes wrong. If for some reason the component cannot be repaired, we will be honest with you about why, we will make a recommendation about how to replace the component, and we have the experience to properly install the replacement unit. We will not push you to replace your unit, and only recommend this if absolutely necessary.
Plumbed appliances, such as dishwashers and garbage disposals, become less reliable over time. Predictably, parts will wear out and before you know it, the appliance is not working as you expect it to. It is often true that such appliances can be returned to their previous level of efficiency and utility, especially when they are repaired by a qualified plumber. One malfunctioning part can cause a complete shutdown of the appliance, which can make it seem as though the only fix is to replace that appliance. Our team can often give your appliance new life by identifying and repairing the issue. It is often possible to help you save money by repairing, rather than replacing, the appliance.
Protect your Kitchen from Water Damage
More serious problems can occur if the malfunction involves leaks or burst pipes. If you are fortunate, a leak will make itself known immediately. If a pipe begins leaking behind your refrigerator or under your kitchen floor, you may not notice moisture or pooling of water right away, and that means the water has more time to do more damage. Either way, we have the knowledge and experience to locate the leak or burst pipe and make the necessary repairs with minimal disruption of your home.
As we stated, kitchen plumbing tends to do well and last many years. However, when it requires attention, you want to know that the plumber you contact has excellent experience and a positive reputation. Dan's Plumbing & Septic fits the bill in both cases. Call us at (763) 434-6814 to schedule an appointment.