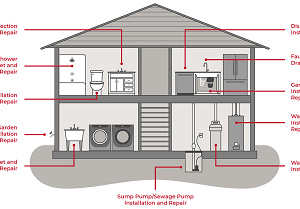 Water damage in your home is something that you want to avoid at all costs. If a toilet or bathtub leaks from your upstairs bathroom, it can damage the bathroom floor as well as all that is underneath. If your laundry room floods, you can ruin any hardwood floors near and underneath that room as well. The easiest way to ensure that your home does not sustain water damage is to call a plumber at the first sign of a problem. Dan's Plumbing & Septic provides high quality, affordable plumbing services for residents of Anoka County, MN. We have worked hard to set ourselves apart for our professionalism, customer service, responsiveness and wide range of services.
Anoka County Full-Service Plumbing Company
We can help prevent plumbing problems before they even start. We handle the following plumbing issues:
● Bathroom plumbing repair (including shower/bath, toilets and sinks)
● Laundry tub installation
● Appliance, gas and water lines
● Installation of garbage disposals
● Kitchen plumbing repair
● Plumbing for new construction
● Sump pumps and sewer pump installation and repair
● Residential and commercial plumbing replacement
● Other general plumbing services as needed
Dan's Plumbing & Septic has been a small local business for more than fifty years. Our crew is fully licensed, bonded and insured and we also hold independent plumbing licenses for both the City of Minneapolis, and the City of St. Paul, so you can feel confident when you work with us. We are veteran owned and operated and have an A+ rating from the Better Business Bureau. We have built our strong reputation by completing thorough plumbing repairs, standing behind our work, putting customer service as a top priority and maintaining competitive pricing. Because we have been in the Anoka County community for so long, we have developed many strong relationships with our valued customers. Our success is based in large part because of referrals and repeat customers, so we put our all into each and every job we take.
High Quality Plumbing Services in Anoka County
Do not take a chance with plumbing issues in your home. Call us at 763-434-6814 if you have any questions or concerns about a bathroom, laundry room, kitchen or septic tank, and we will set up a time to come check it out. One of our experienced technicians will come to your home and get to work. We are available for emergencies when needed, will fully explain our findings and recommendations for repair and will never charge you hidden costs or fees.