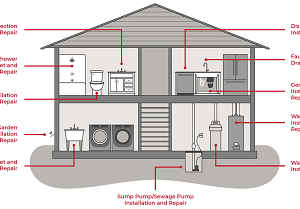 If you are a homeowner, there are probably jobs that you find easy to complete around the house. You may be good at painting, fixing tile, caulking around the kitchen sink, building shelves and even cleaning your gutters. However, there are some home improvement jobs that should generally be left to a professional. One of those jobs is general plumbing services. If a plumbing job is not completed correctly, it can result in significant water damage to your home, which can be extremely costly. Dan's Plumbing & Septic can complete all general plumbing maintenance and services in your home to help you avoid a larger problem.
Our general residential plumbing services include the following:
● Faucet and sink repair (for kitchen, bathroom and bar room sinks)
● Dishwasher installation
● Garbage Disposal installation and repair
● Toilet installation and repair
● Bathtub and shower faucet and drain repair
● Laundry faucet drain and repair
● Water heater repair and replacement
● Sump Pump and/or sewage pump installation and repair services
● Detecting a leak in your home and completely repairing the area
Professional Plumbing Services in Minnesota
Your home's plumbing system is fairly complex and there is really no margin for error when it comes to repair. Our team brings more than sixty years of experience in plumbing and septic work. This means we have the skills and experience necessary to complete repairs correctly the first time. In addition to being highly skilled, our contractors also provide the best possible customer service. This, even more than our plumbing services, is what has kept us in business all these years. Our business has grown during this time, but we always keep our customer needs at the center of our work. This means being prompt, professional, answering questions clearly, offering affordable pricing and responsive service twelve months a year. We are a family-owned Minnesota-based company that treats each of our customers just like family.
Family-Owned Plumbing Company
You can be confident that when you hire our team you will get answers to your problems and repairs that you need and no pressure for work that you do not need. We do not charge hidden costs or fees, and we can respond to emergencies at night or on the weekends. After all, a plumbing issue does not just happen during normal business hours! For more information or to speak with a member of our team, call us at 763-434-6814.