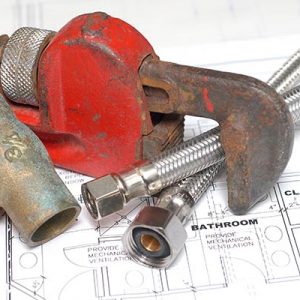 Homes are like automobiles in several ways. They are large investments and have become more complex over time. Cars and trucks are on their way to becoming computers with wheels, and houses are increasingly automated and complex too. This is a natural progression toward greater convenience, efficiency, and even luxury. But just like it is true that automobile repairs require the specialized training of mechanics, it is also true that the installation of appliances increasingly requires the expertise of a professional with licenses and certifications. Dan's Plumbing & Septic provides the kind of services you need for proper installation and maintenance of your complex appliances. In may cities having a licensed professional install you gas line is required.
Professional Gas and Water Line Installation
It is certainly still possible for a homeowner to install something as simple as a new electric clothes dryer. Such a task requires only a few tools, the ability to move the appliance itself, and perhaps the ability to get into a tight space to make all the connections secure. But if you need a new gas or water line installed for a new appliance, or if your desire for greater energy efficiency and environmental stewardship has created a desire to transition from electric appliances to gas appliances, installation is more complicated. In these cases, we recommend that homeowners—even those who have had success in learning new skills—contact a licensed and certified service provider to ensure that the job is done correctly.
Mistakes made by homeowners who choose to install new gas and/or water lines can prove to be not only expensive, but also dangerous. This is why we cannot stress strongly enough our recommendation to allow us to install anything involving gas or water. In addition to having the knowledge and experience necessary for completing gas and water line installations properly, we also have all the necessary tools for these jobs. The tools needed are often specialized and specific to the associated tasks of installation, and most homeowners simply do not have these tools on hand. So, in addition to saving you time and money, we can also save you a lot of trouble in the installation process.
Prevent Gas and Water Line Damage
Damage done to a gas line or water line can cause a home upgrade to become extremely expensive very quickly. However, working with Dan's Plumbing & Septic can save you that stress, time and money. Call us at (763) 434-6814 to learn more or to request an appointment.