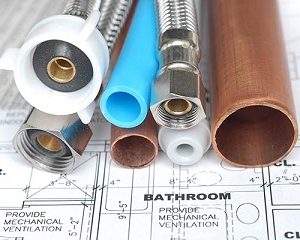 A new or recently renovated bathroom can look beautiful, but in order for it to be built to last, you must ensure that an expert bathroom plumbing team is able to perform necessary installation and maintenance services. Dating back to 1962, that's exactly what our team at Dan's Plumbing & Septic has been providing residential and commercial property owners in the Seven County Metro area of Minnesota.
Our dedicated plumbing professionals always make sure that the needs of our customers are a top priority. To help ensure that we provide satisfactory service at all times, we use the best plumbing materials available. Combining that with almost 60 years of experience, our bathroom plumbing services simply cannot be matched. No matter if you are in need of bathroom plumbing installation services or you are in need of a bathroom plumbing repair, we've got you covered at all times. Count on our team to install or fix your bathroom plumbing needs correctly without ever overcharging our clients. Our end goal is for you to count on us for any plumbing project that comes about in the future, so building a strong relationship with our clients early on is critical.
Full-Service Bathroom Plumbing Professionals
No matter what type of bathroom project you are working on, we can handle the plumbing aspect of the job with ease. Looking into putting in a new whirlpool tub in your bathroom? Our fully licensed, bonded and insured plumbers will make sure that your new tub is installed seamlessly. Simple plumbing jobs like installing a new project can quickly be handled by our staff. If you're working on a remodel and plumbing needs to be moved around, let our expert bathroom plumbing professionals take the stress out of this important aspect of the project. After your bathroom plumbing service is complete, you'll be able to rest well knowing that your bathroom plumbing project was completed by the best team around.
To ensure that your new or recently renovated bathroom is going to be in great shape for the long haul, team up with our dedicated staff at Dan's Plumbing & Septic. Our experience, high quality plumbing materials and focus on the details makes us an ideal option for your bathroom plumbing project. Offering expert bathroom plumbing services in the Seven County Metro area of Minnesota, give us a call today at (763) 434-6814.