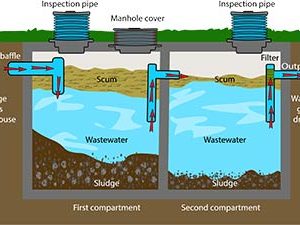 At Dan's Plumbing & Septic, we want you to get the most out of your septic system. It's surprising that most people do not know the simple dos and don'ts when it comes to septic system care. Since 1962, our team of professionals have been providing the highest level of septic services to the area. Being a full-service plumbing and septic company, we have seen a lot of issues arise. In an effort to help keep your property and septic system as "healthy" as possible, here are our tips for caring for your septic system all year long.
Kitchen Garbage Disposal And Your Septic System
There are a lot of "don'ts" when it comes to septic system care. One of the biggest no-no in our business is garbage disposal systems. While it may be a small convenience after a meal, it can be a septic system nightmare. The tiny fragments that are broken down in your disposal will not break down over time. Instead, it causes damage to your plumbing inside your home or business and then damages the lift pumps and drainfields by clogging it up so that the wastewater has nowhere to go. Bottom line, garbage disposals are just not worth it in the end.
Laundry And Your Septic Tank
Another big no-no for your septic system is powdered laundry detergent. This soap will form back into a solid in the same way that your garbage disposal remnants do and damage the system. Also, while you are doing laundry, make sure that your lint screen is working well. Lint entering the plumbing system will cause the same problem and be a nightmare for you. Lastly, water conservation during laundry is important. If you don't want to overwhelm the drainfield, spread your laundry out over a few days.
Keeping Your Septic System Clean
We have heard of people pouring unwanted paint, grease and hard chemicals right down their septic system. Utilizing your septic tank as a garbage can is not okay. Keep it covered and keep it clean. Also, find out where it is! Knowing where your septic tank system and drainfield goes is a great way to keep it safe. We recommend no driving over it with anything heavier than a lawnmower as it can cause pressure on your tanks.
There are many things you can do to keep your septic system working and functioning properly. However, the resounding message remains the same: prevention and protection. Prevent unnecessary clogging and protect your septic from any elements that may cause harm. For more information about our plumbing and septic services, give Dan's Plumbing & Septic a call today at (763) 434-6814.