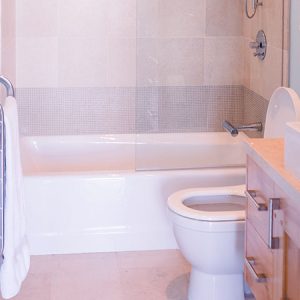 Are you living in Fridley and dealing with plumbing issues in one of the bathrooms of your home? Plumbing is one of those repairs that is better suited for professionals because oftentimes inexperience can lead to worse plumbing damage. Choosing the right bathroom plumbing team to handle your repairs is a very important decision that you will need to make. Experience should be a key component that you look for in a bathroom plumbing company, and there's not many that can beat the experience of our team at Dan's Plumbing & Septic
Dating back to 1962, Dan's Plumbing & Septic has been providing professional plumbing services in MN. One of our specialties that we are well suited for is bathroom plumbing repairs. Over these decades, we've seen it all when it comes to bathroom plumbing repairs. When purchasing a home, the plumbing in your bathroom may not be at the top of your evaluation list, but at Dan's Plumbing & Septic it is for our team. The last thing that you want is for a small repair that goes unnoticed by a homeowner to turn into something much worse down the road. Whether it is a minor bathroom plumbing repair or a massive one, count on Dan's Plumbing & Septic to get your plumbing back to full strength the first time around.
Bathroom Plumbing Repairs in Fridley, MN
When we talk to our bathroom plumbing experts, they tell us that the most regular bathroom plumbing repairs that they get called for include the following:
● Water Leaks – Oftentimes when water damage is found in your bathroom, it is caused by a leaky pipe. Trying to find the source of that leak can be extremely difficult without proper experience. The water leak may be coming from your bathroom toilet, sink or even the bathtub. Our bathroom plumbing team will find out exactly what is leaking in a timely manner.
● Toilet Repairs – Has your kid flushed something down the toilet that they shouldn't have? Are you having water pressure issues or has your toilet stopped flushing? These are common issues that our clients have with their bathroom toilets. Rather than risking water damage in your bathroom, count on our staff to handle your toilet repair needs.
● Faucet & Drain Repairs – Trying to fix drain issues with your bathroom faucet or bathtub drain can be difficult and you've got to have the right tools to get the job done well. Let our crew evaluate the reason why your faucet or drain may not be working well and provide you with an affordable resolution to the issue.
If you are looking for a trusted, experienced and affordable team of bathroom plumbing professionals to handle your repairs, Dan's Plumbing & Septic should be your number one choice in MN. To learn more about our bathroom plumbing repair services or to schedule an appointment with our staff, give us a call today at (763) 434-6814.