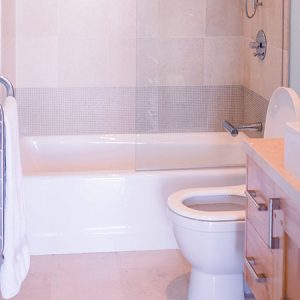 Are you considering a bathroom renovation? Are you having issues with the plumbing in your existing bathroom? Whatever the situation may be, our team at Dan's Plumbing & Septic is the perfect team in MN for the job. We are bathroom plumbing professionals that have the experience to back up our work. As our saying goes," Our Flush beats your Full House".
With more than 50 years of experience, our staff has seen it all when it comes to bathroom plumbing damage and repairs. Our expertise allows us to tackle your repairs effectively, timely and without the risk of further damage. Whether you've got a water leak in your bathroom, you are having issues with your toilet or the drain in your faucet or shower isn't working well, we've got your covered.
Time is extremely valuable when dealing with bathroom plumbing issues, which is exactly why our staff takes your needs so seriously. Not only will you find our prices affordable, but we will be sure to fix your repairs correctly the first time around. Our end goal is to develop a strong relationship with each of our clients so that they know they can contact us anytime they're in need of plumbing assistance.
Toilet Repairs
Especially if you have an older toilet, there are a lot of issues that may arise over time. For many of our clients, they contact us because of toilet issues such as a constantly running toilet, water level issues, and loose or cracked toilet tanks, etc. Alternatively, if you've just purchased a new replacement toilet for your bathroom, let our dedicated team install this for you. Our expert installation will give you the peace of mind that your new toilet will be around for the long haul.
Whirlpool Tub Installation Made Easy
As a fully licensed, bonded and insured plumbing contractor, our professionals have decades of experience installing whirlpool tubs into bathrooms of all sizes. To help alleviate the financial stress you may be feeling about installing a new whirlpool tub in your bathroom, we offer a complimentary estimate that breaks down all of the costs around your installation project. You'll find our costs to be fair and affordable. Additionally, our precision installation cannot be matched by any other plumbing provider around MN.
If you are looking into a bathroom renovation or are in need of some bathroom plumbing repairs, it's important to have a plumbing contractor on your side that you can trust. Serving MN, our team at Dan's Plumbing & Septic are the bathroom plumbing professionals that you can count on. To schedule service with our team, give us a call today at (763) 434-6814.