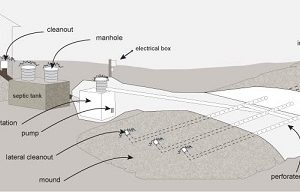 With the holiday season upon us, and with the Covid-19 crisis becoming less severe, it is more likely that we can gather with family and friends. Getting back to normal will certainly feel good, of course, and we should all enjoy it as much as possible. Aside from the possible family conflicts that can arise around the holidays, one of the very last things we would want to experience is a septic system failure while our loved ones are visiting with us. However, if you are concerned that there is a problem with your septic system this holiday season, Dan's Plumbing & Septic is ready to help you.
Actually, we are here to help you with any and all of your septic system needs, but at this time of year, with the busyness of the holiday season, it may help to be reminded of our ability to help on a moment's notice. Septic system problems seldom occur when it is convenient for the homeowner, and if something does go wrong, Dan's Plumbing & Septic is the company to call.
Increased Pressure on your Septic System
At any time of year, if your septic system is taxed too much, you can find that problems arise. As you prepare for guests, or when your college aged children return for their winter breaks, it is almost certain that you will put more pressure on your septic system. Though most septic systems are robust enough to absorb the added pressure of a few guests for a short period of time, it is possible that an increase in the use of water can be what causes a problem that was not necessarily noticeable to become one that requires immediate attention.
For example, if it has been a while since you last had your septic system serviced, the system might have been slowly developing more serious clogging issues. It is possible to get used to a gradual lessening of water pressure or drains that slowly develop the need for more time to drain completely, and those are early signs of septic system issues. If you do have more house guests, the increased demand on your water system could cause the issues to become more pronounced.
24/7 Septic System Repair
If you do notice that sinks and tubs drain slower, and certainly if you smell sewage coming up from your drains, be sure to contact us. We can and will respond ASAP, and we can prevent a problem from becoming more serious. Call us at (763) 434-6814 to schedule service.