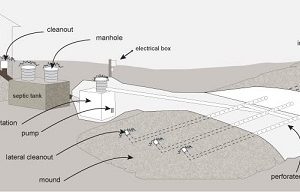 At Dan's Plumbing & Septic, we understand the value that your septic system holds. While most homeowners are not thinking about all the ways they can help their septic system, that is all we are thinking about over here! Maintaining your septic system will reward you with many years of service. It's important to make simple, small changes for big results. So, for any property owners out there, it's important to know some of the simple year-round tips that will keep your septic system healthy for many years to come.
Tip Number 1: Your Septic System Is Not A Garbage Can
As a septic service team, it sends chills up our back when we hear of property owners throwing human manufacturing solids into their septic system. Items like paint, grease, hard chemicals, tampons, Q-tips, wet wipes and even personal items have been found in the septic system, clogging it up and destroying your system. These items will damage your lift pumps and prevent your drainfields from distributing effluent into the soil. So, what does that mean for you if you do not heed this warning? Clogged drainfield and a backed-up sewage problem! Long story short: throw anything you have in your hand in the garbage and save your septic system!
Tip Number 2: Be Careful With Your Laundry
There are lots of laundry no-nos when it comes to our septic system. The first one being, don't delay your laundry care! If we do all of our laundry only once a week, we may overwhelm our system. Your septic system is designed to accept and treat only so many gallons of wastewater each day. If we do 18 loads of laundry in one day, it will easily overwhelm the system and flooding can occur. Additionally, powdered detergent soaps are no longer allowed! Just say no! Why, you ask? Once powdered detergent soaps reach the septic tank, the soaps begin to form back into a solid. Just like trash fragments from a disposal or items dropped into the septic system, powdered laundry detergent can damage the septic system in the same way. Lastly, continue to use your lint screen on your laundry machine. Lint is the most common culprit when it comes to plumbing lines that force floor and laundry tubs to flood.
Tip Number 3: Don't Drive Over Your Septic System!
Driving over any part of your septic system is a dangerous slope! The soil weight on the system is already heavy, adding the pressure of a vehicle could cause a large bust or crack in your septic system. That being said, a lawn or push mower should be just fine!
For more tips and information about our septic services here at Dan's Plumbing & Septic, give us a call today. Contact our committed team today at (763) 434-6814.