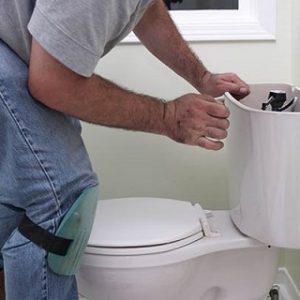 Whether your toilet needs to be replaced due to functional issues or perhaps you are just looking to upgrade your bathroom space, Dan's Plumbing & Septic is here to help. Providing quality toilet replacement services in Minneapolis since 1962, our professionals are here to help with whatever you may need.
Yes, believe it or not, toilet assessments are a thing and a simple repair versus replacement can save you a bit of money. So, before you assume that your toilet needs a replacement, let our experts help diagnose the problem and ensure that it cannot be repaired by a simple fix. Whether your toilet is constantly running, or you are consistently noticing malfunctioning parts, our experienced and knowledgeable team will come out and take a look to see what you may need.
Toilet Replacement Versus Repair
While we can repair toilets in many cases, sometimes a replacement is necessary. If this is true for your toilet, don't worry. Dan's Plumbing & Septic work hard to keep costs low for our customers. In fact, sometimes the cost to repair a toilet can exceed the cost for a new one. At Dan's Plumbing & Septic, we work with you to find the most cost-effective solution to your toilet replacement dilemmas. We will assess your space and then make a recommendation on repair versus replacement. Our professionals are always able to answer questions about our services and provide you with a clear estimate so that you know there are no hidden agendas or fees.
Toilet Replacement Minneapolis
It is unfortunate that we have had many home or business owners call after they have tried to perform a toilet replacement themselves and have failed. If you want to ensure that your toilet is installed properly, it's best to call a professional. Toilet replacement is not necessarily a DIY job. There are many things to consider during a replacement. Is your toilet a straight fit? A retrofit? Do you need to repair the flange? Does the new toilet even fit the same space as the old one? How do you even cut the water on and off? To ensure no damage to your space both in the present and in the future, calling our professionals here at Dan's Plumbing & Septic is a must.
Ready to learn more about our toilet replacement services in Minneapolis, MN? For all of your toilet replacement needs in Minneapolis, give Dan's Plumbing & Septic a call today. Serving both residential and commercial properties in Minneapolis, MN, contact (763) 434-6814 for all questions related to our toilet replacement services.