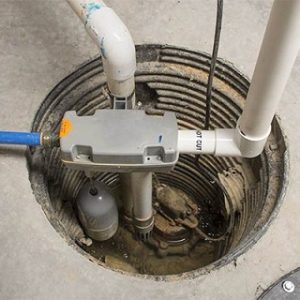 Between winter blizzards and summer storms, Southeastern Minnesota sees its fair share of water. Unfortunately, many basements aren't built to withstand this amount of water. If flooding is a common problem in your basement, consider having a sump pump installed by the experts at Dan's Plumbing and Septic. Having a dependable sump pump in your corner, you won't need to worry every time the snow thaws or the rain comes pouring down. A reliable sump pump will bail you out every time!
A sump pump is a system designed to rid your basement of water from flooding or any other form of excess water. These pumps are vital to many homes or buildings, and it's important that you have one in place if you have a basement, or if your home sits low. Sump pumps are typically powered by electricity, and in the case of a power outage they can be powered by a backup battery. There are two main classifications for a sump pump—pedestal or submersible. Each of these has their pros and cons, which we will be happy to discuss with you!
Choosing The Right Type Of Sump Pump
Submersible pumps are more common than pedestal pumps, as they're typically installed when the house is being built. True to their name, submersible pumps are meant to be submerged under water below the basement floor. Compared to pedestal pumps, submersible pumps take up less space, can pump water faster, and have backup battery options. A pedestal pump, on the other hand, has a standalone motor installed above the basement floor, is typically used when the sump pit is shallower, and typically lasts longer.
Costs Of Sump Pump Installation
Ultimately, the cost of a sump pump installation depends on several factors. For example, replacing a sump pump is less expensive than installing a new pump because, unless the previous plumber did something wrong with digging the sump pit, there shouldn't be any digging involved. Gravel is also easier to dig through than concrete, so the pump environment will also influence the overall cost.
Your Local Sump Pump Experts
A sump pump can make all the difference for preventing water damage and protecting the structural integrity of your home. Rather than worrying every time it rains or snows, you can have peace of mind that your sump pump will take care of business. Dan's Plumbing and Septic installs industry-leading pumps that are known for their reliability, efficiency, and superior quality. From digging a sump pit to installing a pump, the experts at Dan's know everything that goes into a flawless installation in the greater Minneapolis-St. Paul area. Call Monday through Friday 7am-4pm (763) 434-6814 for your free estimate.