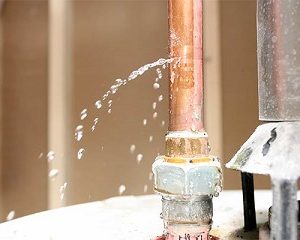 Everyone depends on a functioning water heater to safely heat water for use in showers, baths, and sinks daily. It is an appliance that is out of sight and out of mind. We all tend to assume, if we have hot water coming from our taps, that the hot water heater is just fine the way it is. Like any other appliance, water heaters need some level of maintenance and naturally break down over time. Water heaters are designed to last 8-12 years, becoming less efficient in their usage after 12 years. Aside from the age of the unit, there are some sure tell signs that it is time to consider a new hot water heater for your home or business:
Flooding Or Water Leaks In You Water Heater
There are many reasons why a hot water heater can leak or flood the area around it. Corroded pipes, clogged drains, a bad relief valve, broken down seals/gaskets, and cracks in the tank are just a few of the many reasons that water could be leaking from your tank. All are signs that immediate repairs are needed, and most are signs that replacement is imminent.
As mentioned, like any other household appliance, repairs are a necessary part of maintaining a system's effectiveness for the greatest number of years possible. You must balance however, the cost of repairs versus replacement costs. If you notice that you are spending more money than usual, and certainly as much money as a replacement unit might cost, consider getting a new unit. It seems like common sense, but many people spend a little here and a little there, and before you know it, the overall cost of repairs have added up to more than the cost of buying a new one.
Types Of Hot Water Heaters On The Market Today
There are several options available on the market today in the water heater category: tankless, gas, electric, and a newer hybrid system. Each has its own benefits and drawbacks, and the decision on which type is best for your home will depend on several factors. For instance, gas is a more efficient option versus electric. Assuming you are replacing an electric unit, this might be a nice option. But you will then have to add in the cost of adding a gas line, having it run to the location where the water heater is, the use of a gas burner, and perhaps several other secondary costs associated with its installation. These extra costs are likely to add to the decision making process.
Hot Water Heater Experts In Minnesota Help You
If you are in need of a hot water heater inspection, repairs, or are considering replacement, give the experts at Dan's Plumbing and Septic a call at (763) 434-6814 today. Their plumbing professionals can offer the quality of service you have come to expect!