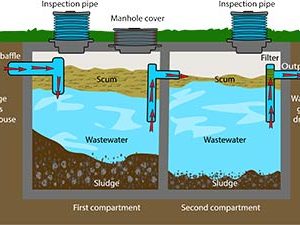 It is common for good and trusted septic system companies to become known for doing a good job with repair work. Not all septic system companies are as versatile as Dan's Plumbing & Septic. In addition to high-quality repairs, we have also established our reputation that extends to most other aspects of the septic system world as well, including septic system design and compliance with city, county, and state ordinances that govern septic system installation.
The general nature of septic systems is similar across the board, but no two septic systems are exactly alike. Your property may need a pressure distribution septic system, yet your neighbors may have sand filter systems or gravity septic systems, and still other neighbors may opt for a mound septic system or an aerobic septic system. There are many factors that need to be considered before determining the most effective system for a given property. The truth is that most homeowners do not have the background or experience to determine which system is best for the property they own. Making a final determination requires trust in the septic system designer, and Dan's Plumbing & Septic prioritizes this with our clients. Our long-term success is largely dependent on the relationships we develop with our clients, and we place great emphasis on earning their trust.
Individualized Septic System Design For Your Property
We will get to know you, your needs and any specific issues with your property as we begin to individualize the design of your septic system. This process is more involved than simply purchasing a tank and the associated piping and other components, and then dropping them in the ground. The contours of your property make it necessary to adjust connections between components so that the septic system will work as efficiently and effectively as possible.
When Dan's Plumbing & Septic designs and installs your septic system, you can feel confident that the installation process will be completed correctly from a mechanical point of view, and that it will also comply with all relevant laws, covenants, and regulations. Septic systems may be individualized for every property, but each one exists in relation to the community in which you live. Compliance with applicable laws is therefore central to the design, installation, and maintenance of the septic system.
Comprehensive Septic System Services
We are experts in this field, and we would be honored to help you design and maintain the system that is right for your property. Call us at (763) 434-6814 to schedule service.