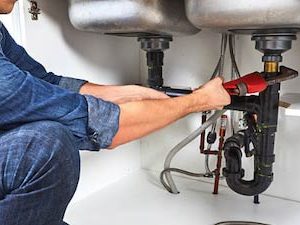 Is a kitchen renovation on the horizon for you? This can be an exciting time as you daydream about a fresh, revitalized kitchen. There are some parts of the renovation project that you can't forget about, though. One of the most important aspects of the kitchen renovation is your plumbing needs. Whether you are installing new appliances or you are completely changing the layout of your kitchen, our team at Dan's Plumbing & Septic is on your side. We provide professional plumbing services for kitchen renovations big and small.
Kitchen Appliance Installation
Is the theme of your kitchen renovation a farmhouse look? If so, we can install the new farmhouse sink that you have always dreamed of. Are you finally getting around to replacing your old, faulty dishwasher? Installing your new kitchen appliances that need plumbing should only be completed by a professional plumber. Our experienced plumbing staff can make sure that your new dishwasher or kitchen sink are installed seamlessly so that you don't run into any potentially damaging issues down the road.
Relocating Your Kitchen Plumbing
If your kitchen remodel is a bigger project that will require your plumbing to be relocated, you can count on our team to complete this for you. Maximizing your kitchen space is a reason why many homeowners go through a kitchen renovation. If you know that your kitchen space could be better utilized, but you don't have any idea of how to make it work, let our dedicated team help you through the decision-making process. We'll provide our recommendations around the best way to utilize your kitchen space with your plumbing always being a top priority. We've been involved in plenty of kitchen renovations where we have had to move around plumbing pipes and drain lines, so your options are limitless!
Dating back to 1962, our team of plumbing experts have been helping homeowners with their kitchen renovation needs. Specializing in professional plumbing for a kitchen remodel, make sure that you get our staff involved in your remodeling project as soon as possible. While you spend your time picking out the fund items for your kitchen renovation, let us handle all of your plumbing needs. The earlier we can get involved in your project, the less likely you'll run into any costly plumbing issues in the future. To schedule your plumbing needs in the future, give us a call today at (763) 434-6814.