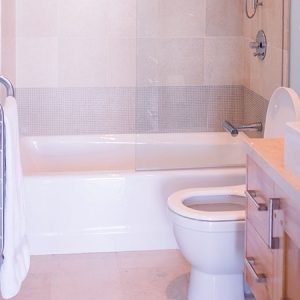 The best moments of owning a home are the ones you string together when you are not worried about anything needing to be repaired, replaced, added, or taken out. If you are lucky, you can recall multiple times when you went several months or even a year without having to worry about a home repair. Unfortunately, those moments are few and far between for most of us. Dan's Plumbing & Septic does an excellent job of restoring that feeling for homeowners who discover that they have a plumbing problem. One specific area we specialize in is bathroom plumbing repair.
There are some homeowners who have the skills and experience to do basic bathroom plumbing repair, but we find that a lot of our customers simply do not have the knowledge of plumbing systems to do the job with confidence. Given that plumbing is based on the principle of controlling the flow of water in your home, it is not something to try to tackle without confidence. Water leaks can quickly cause extensive damage, and no homeowner wants to find out that the significant damage done to their home was caused by their own faulty repair.
Professional Bathroom Plumbing Repairs in Minnesota
The team at Dan's Plumbing & Septic has worked hard to develop our professional skills to the point where we can state without hesitation that you will not find a better source for bathroom plumbing repair in the Minneapolis/St. Paul area. One of the most common problems we fix are leaking toilets. In most cases, a toilet that has only recently begun to leak probably will not cause too much damage. But if left unchecked, the damage can grow. Given the potential for water-leakage to do extensive damage, you do not want to wait to have your toilet, bathroom sink or shower checked by a professional.
Prevent Costly Bathroom Damage
We work fast and we work efficiently which means that we will have your bathroom back in full working order quickly. We understand how essential your bathrooms are toward maintaining your lifestyle. We know all too well what it is like to lose the comfort of your bathroom. However, issues in your bathroom can mean more than an inconvenience. Bathroom repairs can cause damage to your home, which can cost you both time and money.
If you are worried that your bathroom needs to be repaired, call the team at Dan's Plumbing & Septic at (763) 434-6814 and we will schedule a time to come take a look.