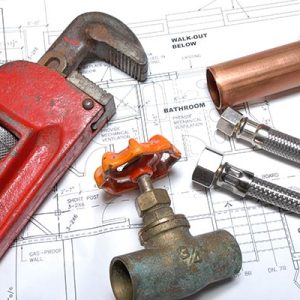 Construction plumbing will overlap with the overall development process. But there is a general step-by-step outline you can expect the plumbing installation to follow. Ready to get started? Professional plumbers at Dan's Plumbing and Septic are standing by to help take your new construction project to the next level. For quality, competitively priced plumbing and septic services, don't waste another day.
Step 1: Study local building codes and secure permits
Every region will require different considerations and legal processes that must be followed before and during construction. But there are some universal norms established by the National Uniform Plumbing Code followed across the country. These codes and permits allow for a safe, smooth installation that will stand the test of time. A lot of the time, your general contractor will be helping you with this process.
Step 2: Install drain and vent lines
Once permits and codes are addressed the actual construction can begin. The first order of business will be to run the drain and vent lines. This is a crucial step in new build construction. The drains and vents must be placed precisely or there could be issues down the line. For instance, you should slope your drains at a 1/4 inch per foot minimum and 3 inches per foot maximum. If you fail to do so, water may not drain out of the home or building properly.
Step 3: Install supply lines
At this point, you have a way to shuttle water out of the home or building. Now it's time to install water supply lines. Most supply lines are made of copper piping due to their pliable, corrosion-resistant nature. While running these pipes, be sure to avoid crossing over the drain or vent lines. This can complicate any future plumbing repairs.
Step 4: Place fixtures
With supply, drain, and vent lines in place, you can move forward with fixture installation. This is where the construction of the rest of the building can merge with plumbing. Here, you can incorporate stylistic elements such as your preference in faucets and sink basins. As we mentioned, once these elements are in place, they will be shielded by plastic or tarps to protect them throughout the duration of construction.
Call the professionals at Dan's Plumbing and Septic to learn more about new construction and remodeling services. If you live or work in the seven-county metro area, contact us today at (763) 434-6814.