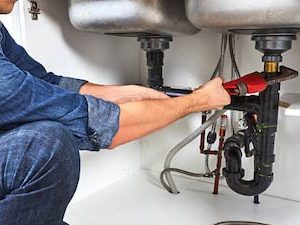 Your kitchen is the heart of your home. When you think about it, it is one of the rooms you spend the most time in (while awake). You prepare meals, eat together as a family, clean up after those meals and sometimes find yourself gathering in the kitchen even when it is not mealtime. Your plumbing system in your kitchen is an integral part of keeping it functioning well. Dan's Plumbing & Septic can help you with kitchen plumbing repair as well as all types of kitchen remodeling projects. Our team of professional plumbers have extensive experience with all types of residential plumbing issues and will put our experience to work for you.
Kitchen Appliance Installation
Your kitchen has several large appliances that use water. Your garbage disposal, dishwasher and even your refrigerator are connected to your plumbing system and should be installed and/or serviced by a professional. Our team will install your new appliances correctly so that you do not find a leak, or worse, water damage. In addition, we can repair or replace kitchen sinks, faucets, and check, repair or even move your kitchen pipes.
Kitchen Remodeling And Plumbing Relocation
A kitchen remodeling project is exciting but can turn into a huge mess if it is not completed correctly. Working with Dan's Plumbing & Septic on your kitchen remodeling project gives you the peace of mind knowing that all of the plumbing issues will be handled, and you can focus on exactly what you want your kitchen to look like (the fun part!). For many kitchens remodeling projects, plumbing needs to be moved so that the kitchen area can be opened up or the space used in a different or more efficient way. We can move around plumbing pipes and drain lines without compromising the area or exposing your home to the threat of water damage.
Trusted Minnesota Plumber
The staff at Dan's Plumbing & Septic has been providing high quality, professional and prompt plumbing services to those in the Seven County Metro area for more than 60 years. We are Veteran owned and operated and have been given an A+ rating by the Better Business Bureau for more than 20 years in a row. We are fully boned, licensed and insured and have built trust by our customers for being responsive and highly professional. For more information about our kitchen remodeling services and other plumbing services, give us a call at 764-434-6814.