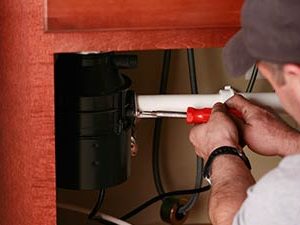 A garbage disposal is the most efficient way to dispose of food waste, especially if you do a lot of cooking in the kitchen. While garbage disposals are great to reduce food waste, they must be maintained properly. Read on to learn some tips on how to properly maintain your garbage disposal as well as the benefits of this wonderful kitchen addition!
Tips To Properly Maintain Your Garbage Disposal
• Use cold water – When using the disposal, you want to keep the water running at all times. But most people don't think about the temperature of the water when using a garbage disposal. It's best to use cold water, as hot water can cause fat and grease to liquefy, which will then adhere to blades and cause damage to your garbage disposal.
• Stay away from hard foods or foods high in fiber – Disposals should only be used for food that grinds into pieces effortlessly. Foods to avoid include popcorn, hard seeds, bones, and fibrous foods such as celery stalks, egg shells, onion skins, corn husks, etc.
• Clean your garbage disposal – As you can imagine, a garbage disposal can become caked with sludge over time. One of the best ways to clean your garbage disposal is to pour baking soda down the drain and pour vinegar on top of it. This can help to clean the blades and prolong the life of your garbage disposal.
Benefits Of A Garbage Disposal
Below are just a few benefits of having a garbage disposal in your home:
• Reduce food waste – A garbage disposal can pulverize much of your food waste and prevent it from going into your trash. This can reduce the amount of food that's thrown away each day.
• Reduce kitchen odors – A garbage disposal can also reduce odors in the kitchen because it can catch and pulverize food particles, so they're not left to create odors in your trash and inside your plumbing pipes.
• Saves time – A disposal allows you to cut down on time spent cleaning your dishes before putting them in the dishwasher.
• Prevent clogs – Without a garbage disposal, food scraps will likely find their way into your plumbing pipes and ultimately cause a clog.
Interested in Garbage Disposal Installation? Contact Dan's Plumbing & Septic Today!
If you're tired of scraping plates and dealing with clogged pipes due to food scraps, a garbage disposal may be just what you need. Feel free to reach out to Dan's Plumbing & Septic today so we can provide you with a free estimate on what it would cost to have a new garbage disposal installed in your Twin Cities home!