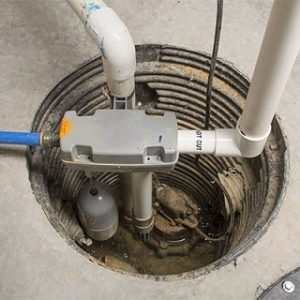 Many homes in the Twin Cities area have basements, meaning water intrusion may be an issue. Where there's water, damage can occur, which is why sump pumps are so crucial in basements. At Dan's Plumbing & Septic, we offer sump pump installation and repair to ensure your basement stays dry year-round.
Sump Pump Installation And Repair
Minnesota has different weather patterns, and with heavy snowfall on the way during the winter, you'll want to ensure you have an adequate plan to protect your home and basement from water damage. Sump pumps are a vital part of helping keep water from coming in your home.
Sump pumps can protect your basement in a variety of different ways, a few of which include:
• Protect Your Foundation – Sump pumps help to keep water from pooling around your foundation. This helps to ensure your foundation stays strong and can support the weight of your home. Water is one of the most common ways foundations begin to crack, leading to costly foundation repairs. These repairs can quickly add up to many thousands of dollars.
• Flooding – Sump pumps also help to reduce the chance that your basement will flood during severe rain or snowstorms. Sump pumps automatically turn on when a certain amount of water has entered the sump pit. The water is then drained away from your home and basement, helping to keep everything dry.
Sump Pump Maintenance is Important to Protect Your Home
While a sump pump is essential, ensuring it works correctly is paramount. A malfunctioning sump pump is no better than none at all. It's vital to regularly check your sump pump to ensure it has power and is working properly. Additional safeguards such as battery backup power are another way to protect your home in a severe storm that could cause an extended power outage. Several problems commonly plague sump pumps, so you should have a local plumber inspect your pump on a routine basis to prevent costly repairs down the road.
Sump Pump Installation and Repair
If you need a new sump pump or have an existing unit that needs to be repaired, call Dan's Plumbing & Septic today. We're licensed plumbers who operate throughout the Twin Cities area. Call our office today at (763) 434-6814 to schedule service on your existing sump pump or get an estimate on sump pump replacement or installation.